On the Way to the Arch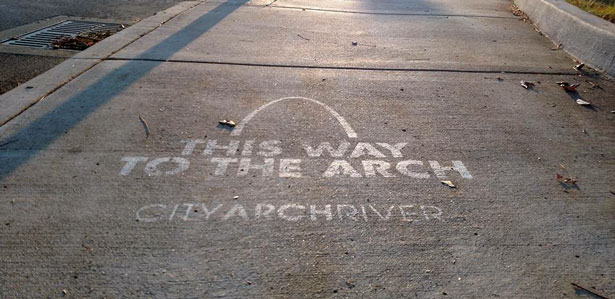 I took the picture above on the way to morning mass at the church underneath the St. Louis arch.
A sidewalk message to navigate the way to what is already a very visible landmark reminds me of my wife's marketing activities in college.
Before we dated, she was in charge of marketing for student activities at Fort Hays State University where we both earned our bachelor's degrees. She was famous for using sidewalk signage to cut through the clutter and let students know which way they should walk to get to the latest music or entertainment program on campus.
Back to this sidewalk signage pointing the way to the St. Louis arch, however, it suggests multiple strategic thinking questions you can ask for your brand's success.
7 Strategic Thinking Questions on the Way to Your Brand?
These seven strategic thinking questions focus on what happens to your customers on the way to your brand.
Put another way, is your brand visible in all the places your customers are going to be as they start toward, get closer to, and are nearby your brand – or your competitors' brands?
Using the St. Louis arch sidewalk signage as inspiration, think about the following strategic thinking questions to imagine where your brand needs to be to reach potential customers on the way to your brand:
Where might customers begin in making their way to find and explore our brand?
How many different paths do customers take to reach our brand category?
What are all the other parties trying to get in from of our brand's customers?
What types of messages stand out from competitors' messages trying to reach our potential customers?
When our customers are looking "up," "down," or "to the side," what are they going to see as they pass by our brand?
How many possibilities are available to reinforce our messages before customers reach our brand?
In what ways might we be able to use pre-brand messages so potential customers know they are getting "warmer" or "colder" relative to our brand location?
Run through these seven strategic thinking questions and see what possibilities your answers suggest.
See if you don't uncover some new opportunities in answering these strategic thinking questions where you can make it easier and more apparent for your customers to find your brand from among all the competitive options! – Mike Brown
Looking for Ways to Develop a Successful
Innovation Strategy to Grow Your Business?
Brainzooming Has an Answer!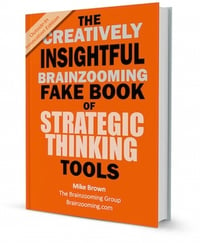 Business growth can depend on introducing new products and services that resonate more strongly with customers and deliver outstanding value.
Are you prepared to take better advantage of your brand's customer and market insights to generate innovative product ideas? The right combination of outside perspectives and productive strategic thinking exercises enables your brand to ideate, prioritize, and propel innovative growth.
Download this free, concise eBook to:
Identify your organization's innovation profile
Rapidly deploy effective strategic thinking exercises to spur innovation
Incorporate market-based perspectives into your innovation strategy in successful ways
[sc:Outside-In ]