What are your expectations from a creative thinking workshop?
That is the first question I ask the audience at a Brainzooming creative thinking workshop. While I have a rich array of content planned, audience member expectations shape the points I emphasize and lead to including other unplanned content.
7 Expectations from Creative Thinking Workshop Training
Preparing for a creative thinking workshop this week, I looked back at a recent workshop to review the expectations participants shared. The expectations are a good representation of issues, from personal creativity to organizational strategy, important to getting things accomplished in a large company.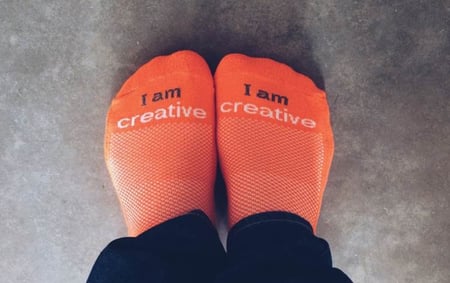 How do you move an organization and its strategy from reactive to proactive?
On a personal basis, certain strategic leadership basics are a good place to start adjusting your attitude and growth as a strategic leader. Organizationally, a change management assessment we use identifies the types of change challenge an organization faces, along with ideas for approaching them successfully.
What are techniques to look at problems in new ways?
We offer a wide variety of strategic thinking exercises to change perspectives and look at day-to-day and longer-term problems in novel ways. At that workshop, we concentrated on the "What's It Like?" strategic thinking exercise as a flexible tool suitable for many situations.
How do you build a team to move forward in a new direction?
We recommend assembling a diverse team with members filling specific important strategic perspectives. You can add to the core group with three distinct voices that include traditional leaders, emerging voices, and those challenging the status quo.
How do you motivate others - and yourself - to engage in greater creative thinking?
It may seem easy to stay stuck in the status quo. But for as easy it is to not change, you can't stop all the change going on around you. We recommend inviting people to participate in creative thinking through using idea magnet behaviors. Idea magnets excite and propel others to tackle challenging creative tasks. Leaders also need to cultivate an atmosphere where people understand it's okay to imagine and try ideas that won't be successful right away, if ever.
How do you choose specific creative thinking ideas your team develops?
Ideas are a numbers game. It takes many ideas to uncover the most creative possibilities. Our experience suggests that as few as 8% to as many as 20% of ideas in a creative thinking workshop are viable candidates to move ahead right away. Involve a team in narrowing ideas by letting them select up to 20% of the initial ideas consideration. Then use a four-box grid to let team members express their initial views on the value of potential ideas, while group discussion helps decide which ideas advance.
What's the life cycle of creative ideas?
The cycle to get from few ideas to many ideas to the best few ideas may happen multiple times during one initiative or plan. You, as a creative leader, need to be on the lookout for when it' s time to move between divergent to convergent thinking and back again.
How do you communicate new strategies to those that are less open to change?
Personally, you can ask open, neutral, and lean questions of people reluctant to change in order to better understand their concerns. Invite them to play a challenger role in constructively helping to vet new thinking. For setting an overall strategy to handle change fears, download our innovation fears eBook offers seven possible strategies to consider.
Creative Thinking Is a Broad Topic
These questions suggest how a creative thinking workshop can cover a wide range of techniques and tips.
If your team would benefit from honing its creative thinking skills, it's a great time to schedule a Brainzooming workshop before you dive into planning for next year! Contact us to get your workshop booked today! – Mike Brown
Facing Innovation Barriers? We Can Help!

Are you facing organizational innovation barriers related to:
We have free Brainzooming eBooks for you to help navigate barriers and boost innovation!