Interestingly, the most challenging situation for Brainzooming strategic thinking workshop success is when it includes TOO MANY individuals viewing themselves as creative.
Yes, you read that right.
Having TOO MANY strong creative perspectives can tank the actionable results coming from a strategic thinking workshop more than having too few creative individuals.
Whenever you have too many "creatives" in the room, it can devolve into each one trying to outshine the others in extreme creativity.
Talking with someone about the most difficult Brainzooming strategic thinking workshop EVER inspired the blurb below. That particular session was filled with about 85% HUGE creative egos. We eventually had to put them in their own creative alliances and work in very small teams (or as individuals) so each one could articulate his or her own creative vision.
By the end, we made progress, but not nearly as much progress as we are accustomed to making.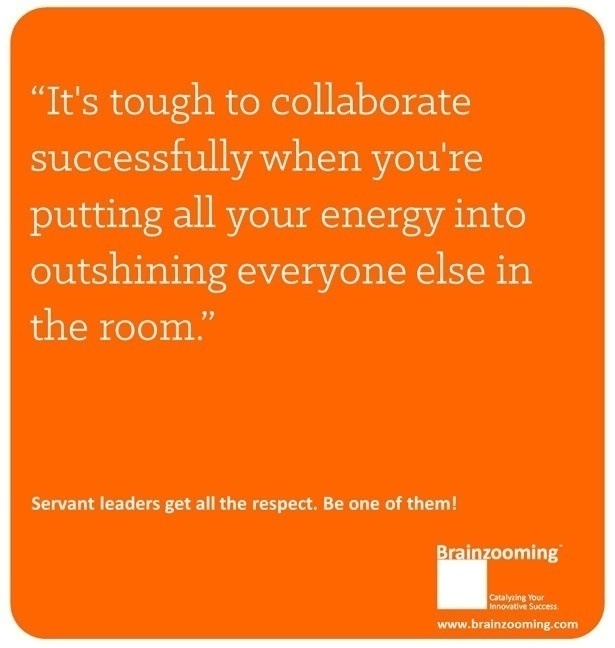 That's why we like a great balance of people, perspectives, and voices in a strategic thinking workshop. That's why we like servant leaders that figure out ways to work collaboratively, productively, AND creatively with other members of the team.
So get creative individually. Get creative in a group. And remember that when you are working creatively with a group, be sure to make creative room for others! – Mike Brown
Download our FREE "Taking the No Out of InNOvation eBook to help generate extreme creativity and ideas! For organizational innovation success, contact The Brainzooming Group to help your team be more successful by rapidly expanding strategic options and creating innovative growth strategies. Contact us at info@brainzooming.com or call us at 816-509-5320 to learn how we can deliver these benefits for you.