I've been spending a ton of time this year working on communications for a Catholic Church I attend. The most recent assignment? Designing a new logo for a fund-raising campaign.
I'm the first to admit: I rely HEAVILY on structure to push my creative thinking. Structure also plays a vital role in helping me maintain a consistent level of daily creativity. Once I've generated all the ideas, it's time to pull away the structures for generating ideas and replace them with other structures to help implement ideas.
7 Creative Thinking Questions Before Designing a New Logo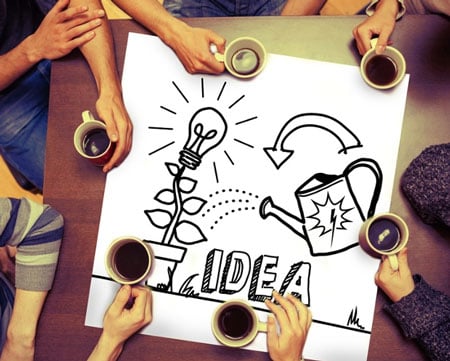 In the past few weeks, I've begun collecting images, messages, and other inputs to develop the strategic creative brief for designing a new logo. Not surprisingly, I'm using structure (in the way of creative thinking questions) to ensure we account for everything the logo needs to deliver.
Since we're all about sharing work-in-process tools that are working well, here are the questions I've been using to explore what will go into the strategic creative brief for designing a new logo. If you have a comparable branding initiative, they can help you develop your thinking:
What does the brand want to communicate about itself through a logo right now? Into the future?
What elements will best create a connection to today's world? To the future, with its changes?
Which visuals will convey vital elements of the brand experience?
What are subtle visual elements that would communicate integral aspects of the brand?
What from the past applies and should be brought forward into the logo?
Are there things we can mine from the original inspirations behind the brand and its visual identity?
Are there comparable visual representations that other brands are using that could serve as inspirations or guide posts?
Next step after getting all thoughts down on these questions? Putting together that strategic creative brief to hand off to the graphic designer who will be developing the logo. Then modifying and selecting the final version.
It all sounds so easy. I'm sure we'll have twists and turns along the way. At least we have a road map to shape our creative thinking BEFORE we get started!
Related Branding Resources