Long plane flights are my most-prized creative times. With the opportunity to be free from the many distractions that drain creative energy, long plane flights always lead to many new ideas. Last Saturday's flight back from New Jersey and #BigIdeas12 was no exception. I finally had the chance to look at the Adobe "State of Create Study" issued recently. The study polled 5,000 people across the US, UK, Germany, France, and Japan regarding their perspectives on creativity across multiple dimensions of society.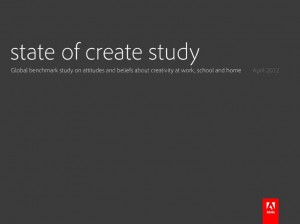 There are enough intriguing insights on creativity in the Adobe "State of Create Study" for multiple Brainzooming blog posts, but the last slide really struck me. The headline read, "Social media plays a minor role, if any, in motivating people to create." Across the global study, only 11% of respondents said social media plays a "great deal" of a role in their creative motivation.
Huh?
If that's the case, people around the globe are really missing out on the incredible new opportunities for creative motivation presented by online and social media resources. This disconnect was fodder for generating a list of sixty-one ways you can use online and social media sources for creative motivation. I KNOW there are more than sixty-one ways, but I decided to constrain myself to only ideas jotted down on the plane.
If you can read through this list and NOT think there are a great many online and social media resources for motivating people to create, let me know. We'll expand the list beyond these first sixty-one ideas!
1. Find people who trigger creative ideas for you
2. Find people who support and cheer your efforts
3. Find people who you disagree with and want to sway to your point of view
4. Find people who disagree with you and cause you to explore new topics
5. Allow yourself to be pointed to creative places online based on others' social media links
6. Use an online exchange with someone as creative inspiration
7. Identify new creative experiences to try
8. Connect with people you meet at conferences more frequently than you would if not for social media channels
9. See what other people are saying about creative topics of interest to you
10. Request creative input from someone half a world away
11. Virtually visit creative places
12. Go to museums you might not be able to visit in person
13. Ask an online friend who has visited a creative place to share the experience
14. Track content coming out of creativity-oriented conferences and events
15. Share a creative experience you've had with people around the world
16. Try to talk to a famously creative person you'd never expect to meet in person
17. Share your works of creativity online
18. Use online images, video, and conversations as creative fodder for your work
19. Hang out with creative people online
20. Closely follow what other creative people are interested in
21. Closely follow what other creative people are talking about
22. Build an outpost for creativity where others can congregate online
23. Give away your creativity for others to build upon with their ideas
24. Sell your creative output
25. Showcase the creative output of IRL and online friends
26. Learn new tools to express creativity
27. Find a new job or project that allows you more time for creativity
28. Sponsor a place for ideas to solve world problems
29. Issue a creativity manifesto
30. Help online friends become more creative
31. Create original social media content (instead of simply lurking)
32. Share your creative stories
33. Download the Adobe "State of Create" study
34. Learn productivity or time-saving techniques to free up your time for creativity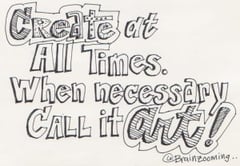 35. Learn artistic skills
36. Change the educational system
37. Become a risk mitigation expert (to address people who see risk in creativity)
38. Encourage others to live up to their potential for creativity
39. Increase the diversity of your creative interests as you get older
40. Find people online in Japan and help them understand creativity isn't just for the arts community (78% of respondents in Japan think this)
41. Collect the facts to build a case for more creativity at work
42. Learn more about creativity in Tokyo, New York, Paris, London, and Berlin (They were rated as the top five creative cities in the "State of Create Study")
43. Explore creative environments and adapt your environment to better foster creativity
44. Source new creative tools
45. Find a creativity-oriented music list to listen to (This one is courtesy of #BigIdeas12 attendee Matt James @TheMJames)
46. Share examples of overlooked creativity in your world
47. Download Taking the NO Out of InNOvation eBook for free
48. Express your ideas - express a lot of ideas - for the world to see
49. Read / skim creativity-oriented blogs
50. Read / skim design-oriented blogs
51. Point out why things people think are boundaries to creativity really aren't
52. Become more childlike and open to wonder
53. Take a virtual museum tour
54. Curate your own museum of the greatest works of creativity in the world
55. Perform a crit and share it online
56. Connect with a local artist in your community
57. Write about what you're going to do in place of the time you spend complaining about not having time to be creative
58. Learn ways to vary someone else's creativity
59. Start planning now for next year's World Creativity and Innovation Week
60. Find free creativity tools
61. Find even more creativity tools
That's my long plane flight list of online and social media resources for motivating people to create. What links or ideas do you want to add to the list? - Mike Brown
Download the free ebook, "Taking the NO Out of InNOvation" to help you generate fantastic new ideas! For an organizational creativity boost, contact The Brainzooming Group to help your team be more successful by rapidly expanding strategic options and creating innovative plans to efficiently implement. Email us at info@brainzooming.com or call us at 816-509-5320 to learn how we can deliver these innovation benefits for you.