Courtney O'Connell, one of the masterminds behind "The Big Ideas in Higher Education" conference and now Director of Business Development at Equalman Studios, put out a tweet recently for ideas on how to work from home without becoming a recluse. I tweeted to Courtney that her question was great fodder for a blog post. So here are 6 ideas for anyone making the transition from an office to a work from home setting to avoid the recluse trap.
6 Ideas to Work from Home without Becoming a Recluse
1. Create a work from home spot with ample natural light.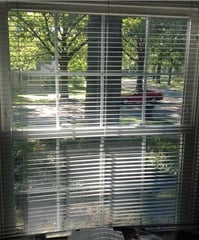 Position your working environment so you have windows with blinds you can open and see what's going on outside. After all those years of having a great ninth floor view of the city, the view from a home office isn't quite as majestic. But an advantage is I see people outside during the day and spend a LOT less time in dreary, windowless conference rooms.
2. Have a regularly scheduled "event" to put you in contact with people IRL early.
For me, this is going to church every morning at 6:30 a.m. It makes me get up early, get dressed, and talk to people before most peoples' days have started. Making your IRL interaction regular is especially helpful if other people you interact with come to expect you. It creates just enough informal accountability to keep you from letting yourself off the hook to stay home and starting working – or sleeping late.
3. Schedule meetings with people that have a clear purpose.
There are lots of people who will want to get together for a "coffee meeting." While it's nice to cheat every now and then and have a purely fun meeting, they eat up valuable time. Just because you work from home doesn't mean you don't want to try and stay on some semblance of a schedule, even if you're the only one making sure you stay on it. When you get out and about to meet, make sure it's going to contribute so some goal or objective – and will be productive.
4. Identify close-by work from home friends with comparable flexibility.
I know what I said in the previous point about meetings with a purpose. Sometimes the most important meeting objective is commiserating with someone else who is dealing with the same ups and downs you are. Be sure you know at least a few other work from home people in your area who can get together when either one of you has to vent or really needs a cheerleading session.
5. Don't ever think social networks are a substitute for IRL interaction.
Social networks are fantastic for keeping you connected in certain ways, but not in others. You can find people to connect with 24/7 if you've made friends globally. Through messaging, you can have some tremendously helpful conversations that are much deeper than people not into social networking might ever expect. But it is SO easy to waste WAY TOO MUCH time on interactions and content consumption that aren't positive or helpful for you.
6. Learn where all the daily lunch deals are around your home.
You'll typically have great flexibility to eat lunch on the cheap, and maybe combine business as well (The Brainzooming Group crew are regulars for long meetings at local place with Taco Tuesdays and great Wi-Fi). While it's fast to grab something from the fridge and eat at your desk, lunch is a wonderful time to take a mid-day break and go see people.
What else would you recommend work from home readers?
There you go, Courtney, and anyone else wondering about how not be a recluse when you work from home. These six typically work for me. It's just a matter of making sure to DO them! – Mike Brown
Download the free ebook, "Taking the NO Out of InNOvation" to help you generate fantastic creative thinking and ideas! For an organizational innovation success boost, contact TheBrainzooming Group to help your team be more successful by rapidly expanding strategic options and creating innovative plans to efficiently implement. Email us at info@brainzooming.com or call us at 816-509-5320 to learn how we can deliver these benefits for you.