We were set to work with a client team exploring the customer experience strategy they'd introduce to their internal customers. As we thought about how many of them there were (about twenty), the two of us from The Brainzooming Group, and the value of having an inner circle of informal facilitators, we hit upon an idea: create roles for a small group of clients to play during our two-day branding workshop.
Each of the four roles were intended to help push the group's thinking on its customer experience strategy in varied ways.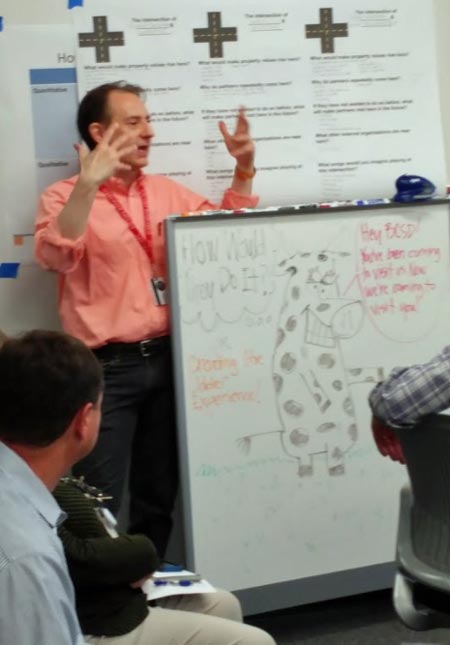 4 Roles to Push Bold Customer Experience Strategy Thinking
We met with them the afternoon before the branding workshop started to provide background information and answer questions. Rather than tromping on others' ideas, we asked them to look for ways to build on and expand ideas the group was sharing in positive ways. We provided strategic thinking questions of their own to use, including:
"That's great and how can we do that _____________?"
"What if that were ________________?"
"Oooh, can we enhance that by ______________?"
"What would it look like if we also _____________?"
We assigned four roles to shape the customer experience strategy thinking:
On the second day of the branding workshop, we added another role: The Queen of Intrigue. That role went to the group's senior executive to focus us on transformative ideas during a strategic thinking exercise involving imagining Chick-fil-A designing their customer experience strategy. Maybe you had to be there to appreciate that one!
We asked the group to pick the roles they wanted to play without telling other participants or us.
Now, for two admissions:
All the while as we were creating this, I was thinking of Chuck Dymer letting me know these roles were accounted for in Six Thinking Hats (affiliate link). That's the problem of me never having taken one of Chuck's Six Thinking Hats workshops. My mistake, definitely!
Emma Alvarez Gibson and I consciously tried to forget who we talked to about the roles. We didn't want to interact with them differently or rely on them unduly as we facilitated the small groups. The result? We can't tell you definitively whether the role playing created greater success or not.
If nothing else, the customer experience strategy roles provided a handful of participants more to think about and something extra to do to make our branding workshop the success it was! – Mike Brown