Before launching your next strategic planning process, take a brief look back. Identify where you can improve over last time.
1. What should you change about how you approach developing strategy?
We recommend reaching out to participants involved across all aspects of developing strategy the last time you went through a formal process. Ask these questions to find opportunities you may not have realized to enhance your next strategic planning process:
In your view, how / where did strategy planning MOST BENEFIT the organization?
How / where did strategy planning NOT BENEFIT the organization?
What did you learn during planning about our opportunities? The marketplace? Improving strategy planning? Other areas?
Thinking about the experience of going through our planning process, what were the good elements? What were the bad elements?
Relative to the last strategic planning process, what would you keep? What would you change? What would you eliminate for the future?
Asking open-ended questions of a wide variety of people provides a range of ideas to improve the effectiveness and efficiency of future planning. Look for themes among the ideas. Compare the themes to your own review and implement changes that can yield the biggest benefits for your organization's strategy.
2. Could you dramatically simplify your strategic planning process?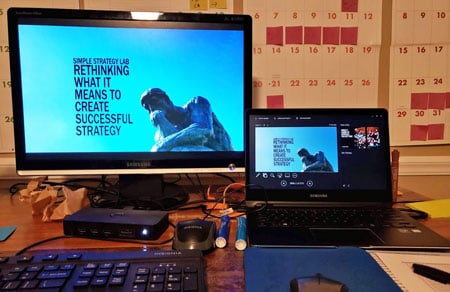 If you're interested in a head start on simplifying how you develop strategy, grab a copy of our eBook: 5 Keys to Streamline Your Strategic Planning Process. In this guide to developing strategy more efficiently and effectively in your organization, we share proven approaches to:
Assemble a strategy team with the right types of strategic thinking diversity
Dependably help non-strategists think strategically
Streamline strategy planning activities to fit your organization's needs
These user-friendly techniques regularly cut weeks (sometimes months) from typical strategy planning activities so your organization can focus on successful implementation.
3. What about making strategic planning fun?
If you also want to inject fun into developing strategy, get your copy of one of our most popular guides: 11 Fun Ideas for Strategic Planning!
Simple and fun strategic planning is possible. Contact us and discover more about how to make it happen! - Mike Brown