This week marks the tenth anniversary of the Brainzooming blog. I've told the story of its inception previously.
Looking back ten years, suffice it to say that starting to write and publish about the work I was first doing in the Fortune 500 world as a VP of Strategic Marketing and then in launching Brainzooming was one of the most important career decisions I ever made. Not fully anticipating it at the time, the blog became created the opportunity for this phase of my career, plus serving as a personal repository of business tools, and, after a ton of writing and publishing, a highly-efficient and effective encyclopedia of Brainzooming content we can adapt for other uses.
Searching through the blog this weekend for additional material to incorporate into an upcoming book, I found the list below. I can visualize the list on a piece of paper when I first wrote it in the mid-1990s. But if not for the blog, it would live in a file somewhere with no way to effectively retrieve it, even though it still holds up all these years later as a guideline for servant leadership and solid business behavior.
If you are in a leadership position or aspire to one, feel free to borrow and adapt it to share with your team. It's a good starting point for setting the stage for making sure your team understands servant leadership and what it means to be an effective, successful team member:
15 Expectations for Servant Leadership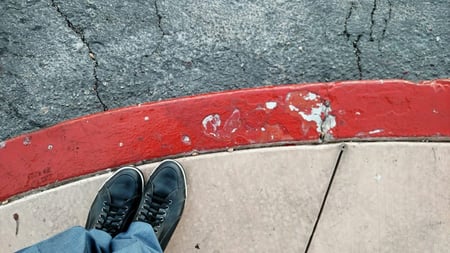 This self-assessment was prepared for my team in response to a question about what my expectations were of them. It's reassuring that with minimal updates, the list of personal checkpoints stills works today. Having stood the test of many years, here it is for you to use as a self-check on your orientation and performance or for adapting and sharing with your own team.
Self-Assessment – You should be known for . . .
Stepping up to challenges as they arise with your time, effort, learning, innovative ideas, etc.
Honesty–with yourself and with everyone in the department and the company.
Attention to detail and accuracy in everything that crosses your desk.
Absolute integrity in using and reporting information.
Asking and answering for all analysis: "What does it mean for our brands, customers, competitors, and/or the market?" and "What actions do we need to take to realize an advantage from it?"
Making communication clear and simple–getting to the point without jargon and unessential information. Constantly work to improve both oral and written communication skills.
Completing assignments in a timely manner.
Being innovative–what can be done differently to increase efficiency, productivity, value, and revenue or reduce costs?
Being above reproach in dealings with all parties within and outside of the company-how you conduct yourself reflects on you, your co-workers, the department, and the company.
Using the knowledge and expertise of others inside and outside the company; recognize and acknowledge their contributions.
Sharing your own knowledge and expertise with others, i.e., what were the five most important things you learned at a seminar or from a book you just read.
Being a leader–even if you are not personally heading a group or project.
Being oriented toward helping people solve problems.
Embracing technology and using it to further profitable revenue.
Solving problems if they arise.
Originally delivered 1/09/95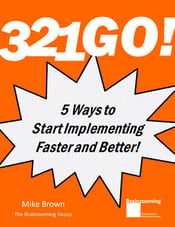 In the new Brainzooming strategy eBook 321 GO!, we share common situations standing in the way of successfully implementing your most important strategies. You will learn effective, proven ways to move your implementation plan forward with greater speed and success. You'll learn ways to help your team:
Move forward even amid uncertainty
Take on leadership and responsibility for decisions
Efficiently move from information gathering to action
Focusing on important activities leading to results