Not sure whether your brand should invest in its innovation strategy right now?
10 Signs to Invest in Your Brand's Innovation Strategy
Review these ten signs about your brand's innovation strategy needs attention right away. See how many of these sound like your organization.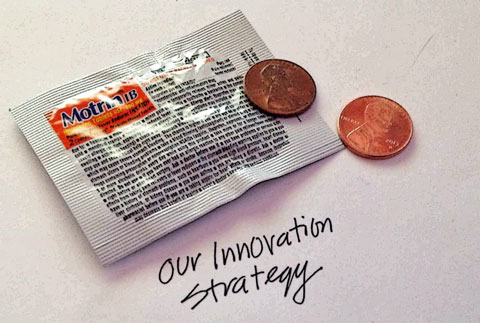 Sales growth with current customers is not meeting expectations.
Your product offerings don't match the decision factors driving why clients select providers in your marketplace.
When you look out five years and project how your brand will be performing in the marketplace, you can't explain how or why you'll be successful.
You have employees leaving your company to start businesses disrupting your core business.
There are brands looking nothing like your company circling around the fringes of your industry.
You have only a trace (or less) of revenue coming from products less than two years old.
The management group doesn't think innovation is all that important for the company's success.
There are intriguing ideas bubbling up in your organization but employees don't have productive outlets to develop them.
Your company says innovation is important but no senior leader is on the hook to turn ideas into results.
You aren't investing in innovation right now.
If you more than a couple of these are familiar, you need to take a hard look at the need to invest in innovation. And if number 10 sounds describes your brand, even if none of the others do, you definitely need to invest in innovation and shore up your innovation strategy – right away! – Mike Brown
The Brainzooming Group helps make smart organizations more successful by rapidly expanding their strategic options and creating innovative plans they can efficiently implement. Email us at info@brainzooming.com or call us at 816-509-5320 to learn how we can help you enhance your brand's innovation strategy and implementation success.