Which Brainzooming blog articles were most beneficial for you in 2011?
Here are the top 2011 Brainzooming articles based on two separate measure of your interest in them. I originally selected a 2011 top 10 articles list based on Google Analytics. When perusing Post Rank, which assigns a score to articles osts based on comments and social sharing, however, it yielded a markedly different top 10.
In the spirit of being as inclusive as possible in looking at what posts were most successful in the eyes and social sharing of Brainzooming readers, here's the Google Analytics Top 10 along with the additional posts from the Page Rank list. Overall, the combined list of the top 17 Brainzooming blog articles for 2011 leans toward creativity, innovation, and social media strategy.
Top 10 Brainzooming Articles for 2011 based on Google Analytics
Creative inspiration can come from anywhere, if you are on the lookout for it. This post was inspired by a tweeted question from Kelli Schmith (@MarketingVeep on Twitter) about project management when time is limited. Having been through LOTS of those situations, I answered her question with this blog post. It has many helpful ideas for forcing yourself to move from divergent to convergent thinking with gusto.
The need to think about creative job titles for The Brainzooming Group was the original creative inspiration for this post. It seems that the questions work for other naming challenges, too. Interestingly enough, we never completed the exercise for ourselves, so we still need to get this done in 2012.
This is the first of several 2010 posts on the 2011 top 10 list. That tells me efforts to better address SEO within our content is paying off since these older posts are showing up based on continued search traffic.
There is a bit of a twist to the creative inspiration behind this post. While it was written from the angle of positive creative thinking skills, it actually came from a not particularly successful call with many negative creative thinking skills. Sometimes you re-cast reality with a healthy dose of wishful thinking. That is what happened here!
After some cajoling (okay, maybe it was begging) from me, Barb Murphy wrote her first post on the Brainzooming blog, and it was a rousing success. This innovation article was picked up by several other innovation emails and websites online, helping to grow the attention it got on Brainzooming. We definitely have got to get Barb Murphy writing more!
Another perennial post, this 2010 extreme creativity article about Buddy Valastro is still perhaps the most popular Brainzooming post ever. When you consider that the 2011 follow-up post with more extreme creativity lessons from Cake Boss narrowly missed making this list, coming in at number eleven, expect more Cake Boss posts in the future!
The original post in this series was started while not paying attention at a class one evening. The initial list of kid-oriented creativity ideas for adults was expanded by several people on Twitter. A summer vacation-oriented edition featuring a jointly created cartoon with Stacy Harmon also did well based on Google Analytics.
I tweet the link to this creative block vanquishing post from 2010 frequently when someone on Twitter complains of suffering from a creative block. It also was the basis for a new presentation on Breaking Creative Blocks that debuted this past April for the CreativeBloc conference. This article shows how to be creative even when you do not feel like it.
The creative inspiration for this one was the Twitter profile of an innovation-oriented tweeter who does not follow me. I was nosing around to learn the people she does follow on Twitter, and it struck me that her old gig, which was with a well-recognized publication, still occupied a disproportionate share of her Twitter profile. We all have choices in how we describe ourselves, and the choices people decide to make fascinate me.
Some readers have told me the Brainzooming blog has become too large to easily navigate and find previous articles. That comment prompted a series of posts recapping and organizing 2010 posts in strategy, innovation, creativity, and social media. Several readers suggested these recap posts were the basis for Brainzooming books. Have to get on that for 2012!
An Additional Top 7 Brainzooming Blog Articles for 2011 based on Post Rank
After live tweeting a TED event, either in-person or one on video conference, there is always so much content. This wrap-up post from the 2011 TED simulcast featured seven parting thoughts on strategy, creativity, and innovation - the central topics of the Brainzooming blog.
This comes from getting tired of people saying, "Just let the intern handle social media." If you are going to be effective, social media requires much more than youth. Take the assessment and see how comfortable you feel about who you have doing social media.
At times when the people you know on Twitter are the only ones reachable for creative input, it is nice to know how to ask and incorporate them most effectively.
We tend to work with organizations where social media isn't the easy answer. That leads to plenty of challenges in creating and implementing a social media strategy to support business objectives. From our experience, here are some of the early warning signs to be looking for as you start a social media strategy effort.
When getting a new blog post written is a challenge, Twitter always provides potential subject matter. Thus, this post came to life. (BTW, if you're in Kansas City and want to hear more on Twitter and getting value from it, I'll be presenting an "Advanced Twitter" seminar on January 19 at the Enterprise Center of Johnson County. Would love to have you attend!
I have to fess up here. It was the Saturday before July 4th, I think I was heading to an exercise class or something, and decided to throw together a hurried hand-drawn chart about who really controls social media content in an organization. So who would have guessed, but Social Media Today picked it up, it was the first weekend of Google+ and Chris Brogan shared it, and all of a sudden my hand-drawn chart gets all kinds of attention. Trust me: you never know what's going to get attention. At least I don't!
This post comes from my personal challenge to tap into a different area of personal creativity. Throughout my career, I've always seemed to be the person who gets someone else's extreme ideas creatively implemented. Now, I have to be coming up with extreme creativity. These questions are a personal tool to help do that.
Thank You for Your Votes in the Innovation Excellence Competition!
Thank you so much for reading the Brainzooming blog. You all continually surprise me on what best resonates with your interests, and that's really fun aspect that keeps me trying new things. One thing that wasn't a surprise is that 14 of the 17 posts here are numbered lists. Blog readers everywhere love their list posts! Watch for a recap later this week with my personal favorite Brainzooming articles from 2011.
Thank you as well for your support on the Innovation Excellence 2011 top blogger contest. I finished 6th. Moving into the top 10 this year is really great, and it couldn't have happened without the support of all of you who are kind enough to read the blog throughout the year. And just in case you haven't subscribed to the blog via email or RSS, here the links to do so: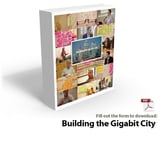 How can ultra high-speed internet speeds drive innovation? "Building the Gigabit City: Brainzooming a Google Fiber Roadmap," a free 120-page report, shares 60 business opportunities for driving innovation and hundreds of ideas for education, healthcare, jobs, community activities, and more. Download this exclusive Google Fiber report sponsored by Social Media Club of Kansas City and The Brainzooming Group addressing how ultra high-speed internet can spur economic development, growth, and improved lifestyles globally.