This week brings more well-deserved enshrinements in the Worst Online Meetings Hall of Fame (#WOMHOF).
The previous two inductee groups, The Hammers and Team Highway to the Comfort Zone display their power through wielding significant No's and possessing incredibly long memories about how things used to be, respectively.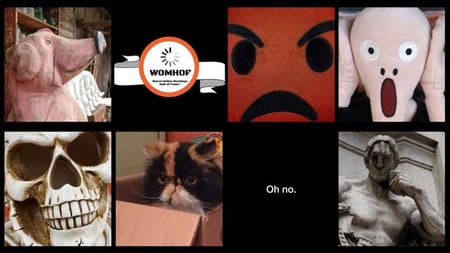 The theme underlying the two new inductee groups revolves around individuals who just aren't interested in working and playing productively and innovatively with others.
Team Meetings Are a Drag
The first group finds opportunities to collaboratively imagine new ideas to be torture. Rather than participating as others try to stretch their imaginations and envision new outcomes, Team Meetings Are a Drag jumps immediately to dissecting ideas and concepts for flaws. While that's an important and necessary step in moving from inspiration toward implementation, it's not step one!
Doubting every new idea (When Pigs Fly), possessing a congenital predisposition to scorn (Already Hate It), and displaying a childhood fascination with the Code of Hammurabi (Mr. Nooo!) make them incredibly worthy of their places among the elite of unproductive meeting participants.
The cool thing about Blast! for this group? The anonymity and the ease of use with the Blast! experience let them actually sneak in a few new ideas (for fun!) without anyone else suspecting that they have gone all soft on shooting down innovative thinking.
Stodgy, Stodgier, Stodgiest
The next WOMHOF inductee group embodies all the shades of stodginess that turn bold inspiration into abject stagnation within the first three minutes of any online meeting (and during hybrid and in-person meetings, too).
Actually, this group is composed of thinkers. They think:
Within very tight boundaries (the In-the-Box Thinker)

After everyone else has blasted through hundreds of ideas in thirty minutes (Let Me Think on It)

About new ways to put the terminal smackdown on ideas (Ms. Idea Killer)
Even for this group, though, Blast! provides a freeing environment and an antidote to their anti-collaborative ways. Through its anonymity, after-the-Blast opportunities to review and share ideas, and the freedom to engage through making judgments, if not actual new ideas.
Managing All the Challenging Meeting Participants
With half of the Worst Online Meetings Hall of Fame inducted, which of your online meeting nemeses have you seen recognized? There are plenty more on the way, in the WOFHOM and on our Brainzooming Instagram, Facebook, and Twitter feeds.
In the meantime, if you haven't already, it's time to download your copy of 8 Simple Ways to Make Virtual Meetings Efficient, Engaging, and Inspiring! It's a starting point for successfully managing the WOFHOM GOATs in your meetings. – Mike Brown