A potential client reached out to us. He was a client team member on a customer experience strategy engagement several years ago. He has moved to a new role leading marketing for an organization shifting from the B2C to B2B market. They need a compelling brand position, messaging, and a content marketing strategy that grows their volume of interested prospects and leads to strong growth to satisfy the global company that just acquired the brand.
We created a proposal for rapidly updating and developing its B2B brand strategy while leaving everything in place the founder and CEO loves about the brand and doesn't want to tinker with right now. The focus was on getting the best, actionable brand strategy foundation elements in place ASAP so they can implement.
We exchanged emails right before the holiday that they are leaning toward going with a different outside partner that does both brand strategy and execution. We responded with a message on why a client-side Marketing VP should be very cautious of an outside partner or agency that rushes to promise both branding strategy AND execution.
1 Big Reason Why You Don't Want Brand Strategy and Execution from the Same Partner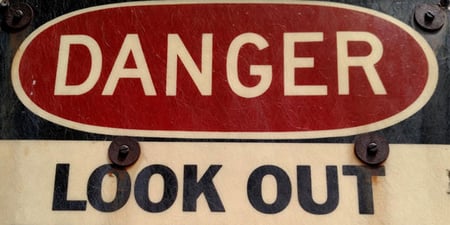 Are you familiar with the pitfalls of picking one partner to both develop brand strategy and execute the strategy? Here, from experience we've had on the client side, are the pitfalls we spelled out for this client side marketer:
Dear Potential Client,
Thanks for your email. I appreciate your candor, and want to be just as candid in my response.
First and foremost, it was clear from our discussions that you need something that is on target strategically and not just interesting creatively.
The pitfall of picking someone who's going to do strategy and tactics and slam it together right away is that they recommend a strategy that best fits what they do, and not what's right for the client. I saw that time and time again as a corporate marketing VP. That's why The Brainzooming Group comes at it in a very aggressive way to tailor the strategy for your organization and needs, independent of looking for opportunities to sell-in additional services.
As it seems everyone in your senior management team recognizes, your brand and messaging is tailored currently to a narrower audience. The messaging and audience strategy must change and be immediately on target to make rapid headway in the broad B2B market you are beginning to target.
If there's an organization that can come to the table and do strategy and tactics with previous experience in your industry, and do it all for the same price, that's great. They'd be the smart choice over us.
It's worth making sure, however, that they understand--both strategically and from a content standpoint--what you need to be successful, and not simply what fits their business model. If they're pitching you on their ability to help you on the B2B side, look at their website and see that they're using those same ideas themselves to target B2B decision makers. If not, as a client, I'd be suspect of how they make it work for others in a B2B market, but not for themselves.
Short story, on the client side, I found that getting the right strategy consistently led to getting the creative right. Our approach and experience will deliver solid strategy. Plus, we integrate well and collaborate openly with organizations that do focus on implementation.
If you're open to it, we're eager to make sure you get the on-target strategy you need, collaborate with your other partner, and make the process fast and economical for you. We'll make sure they're getting everything these need to quickly implement the strategy that's going to yield business results for you.
Again, I appreciate your candor and your time. We'd love to work with you. Feel free to reach out for any clarification or to get us moving on next steps.
Thanks,
Mike
Are you facing the same question about brand strategy and execution?
We'll see what the potential client does. My suspicion is they'll go with the other partner, and get a seamless plan that the outside partner positions as solid brand strategy. The problem is the brand strategy will look like a page from the partner's capabilities page. So, the seamless strategy will work well for the outside provider – at least until it is implemented – but fall short for the end client.
Are you facing the same type of decision about developing your brand strategy?
Contact us, and let's develop the best strategy for YOU. Then get the right partners to implement it. Because the promise to do everything will get you almost nothing that works. – Mike Brown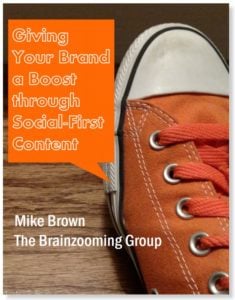 Download the Brainzooming eBook on social-first content strategy. In Giving Your Brand a Boost through Social-First Content, we share actionable, audience-oriented frameworks and exercises to:
Understand more comprehensively what interests your audience
Find engaging topics your brand can credibly address via social-first content
Zero in on the right spots along the social sales continuum to weave your brand messages and offers into your content
Start using Giving Your Brand a Boost through Social-First Content to boost your content marketing strategy success today!