I'm in Las Vegas this week, speaking at the Specialty Equipment Market Association show in Las Vegas. There are 60,000+ attendees and exhibitors. This is my third year speaking during the educational sessions. In 2016, I invited one person to sit on the stage as all the other presentation attendees helped generate new marketing ideas for the retail store she represented.
During this year's presentations, I'll be covering both brand strategy (Thursday) and social-first stories (Friday).
9 Areas to Tune-Up Your Brand Strategy for Peak Performance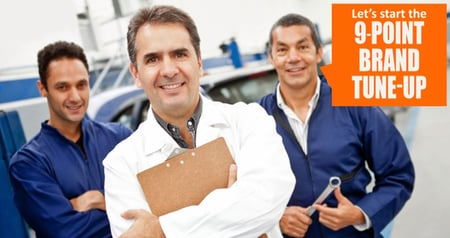 The branding presentation features a nine-point brand tune-up any business can use to evaluate a variety of the most important aspects of your brand strategy and performance. As a resource for both the attendees and for all of you, here are links for each of the nine checkpoints.
Expressing Clear Brand Benefits
Creating a Compelling Brand Promise
Using Your Brand to Shape Daily Decisions
Listening to & Learning from Customers
Establishing a Clear Market Position
Exploiting a Robust Brand Vocabulary
Identifying Custom Branding Tools
Sharing Social-First Stories
Maximizing Brand Popularity
Enjoy the links, and if you have questions on strengthening your brand strategy, contact us, and let's talk about how you can do it effectively and efficiently. – Mike Brown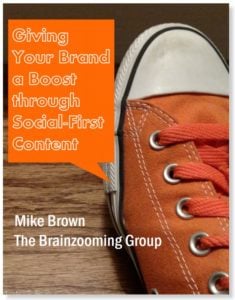 Download the Brainzooming eBook on social-first content strategy. In Giving Your Brand a Boost through Social-First Content, we share actionable, audience-oriented frameworks and exercises to:
Understand more comprehensively what interests your audience
Find engaging topics your brand can credibly address via social-first content
Zero in on the right spots along the social sales continuum to weave your brand messages and offers into your content
Start using Giving Your Brand a Boost through Social-First Content to boost your content marketing strategy success today!