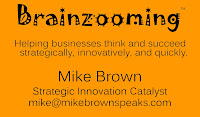 Big shifts are taking place personally. They're sure to affect the direction and content on Brainzooming™, and it's appropriate to let you know what's happening.
For the past five years, I've been working a
personal branding plan
designed to grow my network, increase learning, and build a stronger presentation and writing repertoire. Important activities have included:
Speaking and facilitating with groups internationally on developing strategic thinking, innovation, branding, and social media
Starting multiple blogs, including one on humor and another on spirituality
Introducing Brainzooming as a "personal" brand
Employing a social media strategy to grow the brand
It's been an aggressive effort, and especially recently, I've described myself as doing two full-time jobs. The personal branding effort for Brainzooming takes place early mornings, late nights, weekends, and vacation days away from my primary job in a corporate role.
During my career, my day job has allowed incredible opportunities to grow and contribute beyond my original market research position:
Through it all, it's been amazing to work with incredibly talented and wonderful people. It's actually quite staggering to contemplate the incredible opportunities I've been provided.
This Friday though, after a difficult decision, I'm leaving my corporate position. Despite all the news suggesting it's a ridiculous time to do it, nearly all indications suggest it's exactly the right thing to do.
As a result, next Monday my priorities flip: Brainzooming moves to the forefront and pursuing a potential next corporate position becomes secondary.
While I've made a point to keep nearly all references to my corporate position out of Brainzooming, its daily learnings and challenges infuse the blog content all the time. With a different routine and new interactions, what gets covered here will change. Together, we'll find out exactly what that means as the future unfolds.
Welcome to the new phase of Brainzooming, as it grows into a full-time strategic innovation consulting company! The Brainzooming team looks forward to your ideas, business leads, and guidance as the changes take place! - Mike Brown