Paying too much attention to Twitter one night last week while needing to write a new blog post for Stepcase Lifehack, I saw this tweet come past from Shawn Gallagher: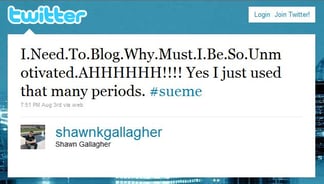 I quickly tweeted Shawn he could break his creative block by writing about what's more interesting than writing a blog post. He was skeptical about it being a real idea to beat a creative block, but he rose to the challenge and wrote a nice blog post on 4 things more compelling right then than blogging.
It's something we all face - distractions which get in the way of what we're supposed to be doing. Because of its universality, it makes a great topic, even if it springs from something mundane.
What to do when you're facing a similar creative block while writing for your own blog or trying to write a guest blog you've promised someone? (Hint, hint to a few of you who've said you'd do guest Brainzooming posts.)
My advice is follow the "George Costanza Blogging Strategy." I named it after an exchange in a Seinfeld episode called "The Pitch." Jerry and George were trying to sell an NBC executive on their idea for a show about nothing. In explaining the concept, George asked the exec what he had done that morning. When the executive said he'd gotten up and gone to work, George exclaimed, "That's a show!"
Adopt the same attitude toward blogging when you're facing a creative block about a potential blog topic. Especially if it's a personally-oriented blog, anything that happens to you can be transformed into a blog topic:
You're facing a creative block for new ideas? That's a blog post!
You're bored with what's on TV? That's a blog post!
Your favorite restaurant raised its prices? That's a blog post!
Of course, you still have to make the topic tie back to the underlying direction and purpose for your blog. But that's often a lesser issue than simply getting around the creative block to find an idea to get started.
How do you find ideas to blog about when you've got a creative block?– Mike Brown
The Brainzooming Group helps make smart organizations more successful by rapidly expanding their strategic options and creating innovative plans they can efficiently implement. Email us at brainzooming@gmail.com or call 816-509-5320 to learn how we can help your organization make a successful first step into social media.