We were working with a client who is very quality-focused in all aspects of its product strategy. One of its brand elements is engineering products for extensive longevity, equating quality and durability in its brand promise.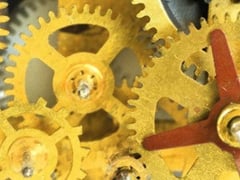 While this strategy is part of supporting a premium price point for its product line, our interviews suggested the brand was not getting full credit in the market for its quality/durability combo.
Beyond that, it was in fact being hurt in some segments where the durability it provides isn't necessary, and potential customers are unwilling to pay the premium. The result is very low share in some potentially attractive segments.
We suggested a strategy of unbundling quality and durability in its corporate mindset as a way to potentially open up new opportunities. We advanced the idea that quality be viewed as a predictable relationship between product age and expected performance. By opening up this strategic view, we tried to get the client to see possibilities in producing a very high quality product engineered for a shorter life cycle than its typical line. If it can take costs out as a result, it could still represent a strong margin possibility while creating new strategic market opportunities it doesn't have a shot at currently.
You may want to take a look at your own product and service strategy to see if you've co-mingled attributes which might make sense for your business needs (i.e., we can charge more if our products last longer) but don't deliver the greatest maximum value for customers (i.e., those with no intention of keeping your products for as long as they'll last).
If your brand isn't getting full credit for everything it delivers, explore strategic opportunities to pull apart co-mingled attributes to create growth and emerging strategic opportunities. – Mike Brown
The Brainzooming Group helps make smart organizations more successful by rapidly expanding their strategic options and creating innovative plans they can efficiently implement. Email us at mikeb@brainzooming.com or call us at 816-509-5320 to learn how we can deliver these benefits for you.