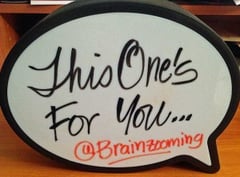 While we try to stay focused on strategy, creativity, and innovation as overarching topics on the Brainzooming blog, the topic range of tweets on the @Brainzooming Twitter account is much broader. I share ample amounts of typical Brainzooming content on Twitter, but the 140 character limit and quicker publishing speeds on Twitter give rise to more eclectic Brainzooming tweets and topics than on the Brainzooming blog.
I welcome you to follow @Brainzooming on Twitter.
To give you a taste of what you'll see from a more eclectic Brainzooming tweet, for all of you whose interests extend beyond strategy, creativity, and innovation . . .
This Brainzooming tweet is for you if you are a:
Bruce Springsteen fan: There can be more than 57 channels and still nothing on.
Cake Boss Fan: Don't you wish someone would go the Cake Boss and ask for a sheet cake with just some frosting on top!
Religious Apple fanboy / fangirl: I did a reading at church from the Book of Jobs. I think it's where he gets ousted from Apple & asks God, "Why?"
My smartphone: I hate to have to use the reset button, but I will. Trust me. I will.
Twitter spammer: All these DMs about people "tapping" me on the Internet. How did I NOT notice? Were they tapping me on the shoulder? Or somewhere else?
Fan of the British monarchy: Is there some rule that Queen Elizabeth cannot smile in public?
Someone who suspects you are my frenemy, "Newman": Some days it's tougher than others to keep your friends close and your frenemies closer.
Person who tells me you're going to be Brainzooming with your team: Your planned brainstorming meeting isn't Brainzooming™ unless we're there to turn it into Brainzooming.
Dieter or anxiety eater: If anyone wonders how many Famous Amos vanilla cookies someone can eat in a day, check with me because I think have a pretty good guess.
NASCAR Fan: The bland Kurt Busch is even more blechh than the angry Kurt Busch.
Customer service-oriented economist (or should I simply say "Woody Bendle"): Exceed expectations, but don't exceed demand.
Market researcher who is a poor typist: It's an "online" survey, not an "onlie" survey.
Person who will "get" this: Our flight attendant announced, "It doesn't count if it's tucked under your leg." Funny, I think there's a whole industry based on that counting.
Person with a bucket list: My parents have a bucket list. Every time something bad happens to people doing something, they add it to the list of things they'll never do.
Someone who works in a corporation: I just started following @ShitMgmtSays on Twitter. Based on the tweets from the account, you probably should too.
Fans of the cable how, "Oddities": Watching "Oddities" makes you wonder if we only get a sense of the normal in the culture in relation to the range & quantity of the bizarre?
A fellow ice cruncher: I learned on "Oddities" (and through Wikipedia) that pagophilia is the need to eat ice.
Star Wars fan: Here's a new mash-up idea: Star Wars dubbed with lines from The Steve Miller Band, i.e. "Luke, I'm the Space Cowboy, but some call me the Gangster of Love."
Where Any of these Tweets for You?
If you found yourself somewhere on this list, please follow the @Brainzooming Twitter account. And if you weren't anywhere on this list, just wait. You will be soon! - Mike Brown
Download the free ebook, "Taking the NO Out of InNOvation" to help you generate fantastic ideas! For an organizational creative boost, contact The Brainzooming Group to help your team be more successful by rapidly expanding strategic options and creating innovative plans to efficiently implement. Email us at info@brainzooming.com or call us at 816-509-5320 to learn how we can deliver these benefits for you.