Twitter Notes
Sometimes things are done simply because you simply declared them done.
With all due respect to all of us, most of the time, we have no clue what's going to happen in the future. If hindsight is 20/20, foresight must be about 20/500.
I talked with a blog reader who asked where I came from. I said, "Well my mommy & daddy loved each other very much..." Apparently, that was too far back.
TV Quotes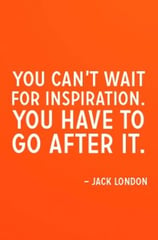 "A great artist is willing to fail flamboyantly." - Jerry Saltz, "Work of Art"
"They say you have to spend money to make money. I don't know where we went wrong. We spent all of our money." - Tom Haverford, "Parks and Recreation"
"I might read more if they put fire behind the words." - Beavis
"As humans we want to categorize and organize things in our head, and it's kind of hard to pin this piece down." Bill Powers, "Work of Art"
Plus Some Creativity Quotes to Check Out!
If you'd like to add an interactive, educationally-stimulating presentation on strategy, innovation, branding, social media or a variety of other topics to your event, Mike Brown is the answer. Email us at info@brainzooming.com or call 816-509-5320 to learn how Mike can get your audience members Brainzooming!