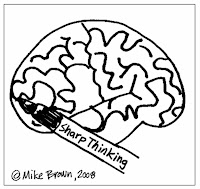 My creative instigator friend Jan Harness has made it clear that she can't think without a pen in her hand. And since Jan's an incredibly talented strategic writer, that's fine with me. I'll even supply the pen, because while she's writing, I'm usually drawing and diagramming.
In contrast to thinking quietly or aloud, thinking while you're writing offers yet another set of potential advantages since it:
Gets ideas down & allows you to visualize them more readily –Seeing the words that make up a thought provides another visual perspective from which to assess the idea.
Allows you to more readily edit your thinking – With the words down on paper you can begin the editing process very quickly, building on and modifying your thinking in concrete, tangible ways.
Speeds sharing it with others who weren't there – In written form, you can read, email, fax, or text the ideas so that others who aren't in the same physical location can review, react, and participate in the thinking process nearly immediately.
Makes it harder to forget or miss a point - By quickly committing things to writing you ensure that they don't get forgotten or overlooked. It also allows strong ideas that may be passed over initially to be around later to resurface when people may have different perspectives.
Thinking while writing works with other types of thinking styles, so if you have the flexibility to think in multiple ways concurrently, you'll reap even more advantages than you might have thought!