A question at my recent social media strategy for non-profits training presentation at the Topeka Community Foundation was what steps one, two, and three should be when just starting developing a social media strategy. Interestingly, the person asking the question speculated on the answer and was absolutely correct:
Start by making sure your home base, your own website, is fantastic before you focus on establishing cool outposts on popular social networks where your target audience spends time.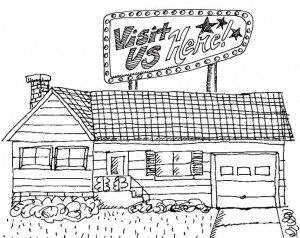 This idea about fixing up your home was highlighted in the recent post on similarities in dating advice and social media strategy. You want to make sure you spruce up your home so that as a relationship which started someplace else advances, you have an attractive, welcoming place to invite someone to get to know each other better.
There are some who say that with the prevalence of Facebook, an organization's Facebook page will supersede (or even replace) its home page on the web.
Maybe.
But even still, while you may want to meet your target audience where they're hanging out, a place like Facebook won't let you share your full story.
It's far better to have a much more compelling online option under your control where someone can learn about you, and importantly, derive more value from the relationship than they can when interacting with you on neutral ground.
If you buy that, what does it mean for your social media strategy?
1. Make sure your online home provides the richest experience possible, delivering valuable content and interactions for your target audience. That means it isn't just a brochure or reads like the typical corporate b.s. Figure out what potential or current customers want to know about or do, and put it in place. If they want to conduct business without lots of extras, get core business functions up and running which are quick to load, perform well, and create a rich user experience.
2. Be present and participatory where your audience is today and extend invitations to your online home. Ask for permission to keep talking to them whether they're interacting with you on Facebook, Twitter, or some other social network. Target securing an email address to open up the possibility for richer conversations on a schedule you're more involved in establishing.
3. Once someone's interested in your website, don't spend all your time trying to get them to go to your Facebook page. Invest greater effort and website geography on providing a whole variety of ways to interact: a blog, distinct RSS feeds, sign-ups for newsletters, multi-media options (video, podcasts), etc.
It's the holidays, so while you think about being home with the ones you love, give some time over to thinking about your online home and making it a great place for the customers (and potential customers) you love to want to return to in the future. - Mike Brown
The Brainzooming Group helps make smart organizations more successful by rapidly expanding their strategic options and creating innovative plans they can efficiently implement. Email us at brainzooming@gmail.com or call 816-509-5320 to learn how we've developed integrated social media strategy for other brands and can do the same for yours.