Working in a large corporation, even one with a relatively small marketing investment, there was typically a wide range of marketing strategies and tools at our disposal. It was a strategic advantage that, quite frankly, became easy to overlook. Moving back to a much smaller organization, as with The Brainzooming Group, makes me appreciate the range of marketing assets I used to have available.
Last year The Brainzooming Group made some marketing moves which were conventional given what we do, and it forced us to hone our messaging, refine our short story on what we offer, and caused us to put visuals and copy to several service offerings. Without committing to something new and different, we'd still likely have each of these on our to-do list (it really is true about whatever version of the cobbler's children story you choose).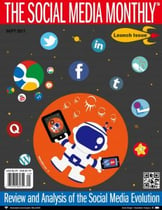 We pushed ourselves again through participating in the launch issue of "The Social Media Monthly," "the first print magazine devoted to the exploration and review of social media." Edited by Bob Fine, who you may remember from a recent post about his "The Big Book of Social Media," this was a great opportunity to contribute an article ("Brand Advocacy in a Socially Networked World") and to run the first ad The Brainzooming Group has placed in a print magazine. While our primary marketing efforts to date have been through social media-based content marketing and personal outreach, actually creating a print advertisement prompted progress on several fronts that have been easy to neglect:
Incorporating QR codes in our marketing
Introducing a landing page on Brainzooming.com
Designing and creating a longer-form free article on social media metrics as part of the offer in the advertisement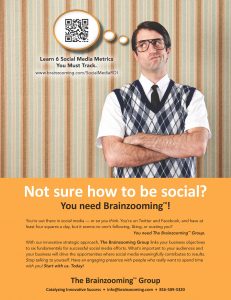 Right now, you can get your hands on the launch issue of The Social Media Monthly by ordering directly from the Cool Blue Company or getting access to the online edition. Additionally, if you're attending some of the upcoming social media conferences around the country, you'll be getting a copy of the launch issue as an attendee. Later this summer, The Social Media Monthly magazine should be available on newsstands as well.
In the interim, we certainly invite everyone to download the updated article on "6 Social Media Metrics You Must Track" from the Brainzooming website. Targeted at one of the most common challenges business and marketing executives are challenged by with social media, it's based on the most-viewed Brainzooming article we've written.
And if you need help in rapidly expanding your organization's strategic options and creating an innovative plan you can efficiently implement, give The Brainzooming Group a call or email us. We'd love to catalyze your innovative business success! – Mike Brown
The Brainzooming Group helps make smart organizations more successful by rapidly expanding their strategic options and creating innovative plans they can efficiently implement. Email us at brainzooming@gmail.com or call 816-509-5320 to learn how we can help your organization make a successful first step into social media.