It's been weeks since the last Brainzooming blog. Sorry about that, especially for those of you who've noticed and wondered what happened. The short answer? Dramatic changes in my activities throughout this pandemic took precedence.
Since April, we've been developing and soft launching a new online collaboration experience called Blast! I also created and delivered a 6-part webinar series addressing The New Important for businesses trying to innovate and restart during the pandemic; the webinar series involved a 2 ½ hour combination of existing and new frameworks plus creating six eBooks in five weeks. Since late March, I've livestreamed daily church services at a parish I attend, helping to keep the parish connected to its members. Since early May, that's extended to helping reopen and reimagine the church experience for public worship involving social distancing. Finally, I went all-in on walking (that 10,000 steps a day thing) to de-stress and compensate for not being able to go to the gym during the pandemic.
Just the part-time church job and the walking account for 30-40 hours of time weekly. Those hours take away from writing. So much for kicking back during the pandemic and fighting boredom! I'll admit, though, until starting this blog post, I've been kicking myself for not getting enough done during this time. Old self-critical habits die hard, I guess.
I want to share updates in the days ahead from the learnings and lessons relevant for you, as Brainzooming readers, from these activities.
The New Important – Strategy in a Pandemic-Shaped World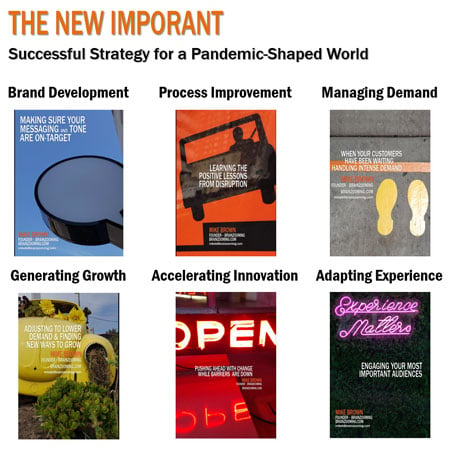 Zane Clark of the Specialty Equipment Market Association (SEMA) reached out in early April to discuss a multi-part webinar series for the association's members on how to restart their businesses. SEMA, as many organizations were doing, had been delivering content focused on government-sponsored financial aid for businesses. Zane wanted to develop and share content that addressed what business executives need to be thinking about in strategy, innovation, branding, and creative leadership. He reached out to Brainzooming because we've partnered with SEMA for a number of years on branding and strategy content for their huge national event. I've spoken at SEMA conferences multiple times and have also spoken and written articles for the Performance Racing Industry. Zane told me he appreciates how actionable Brainzooming content and tools are for their members.
The timing of Zane's call was perfect. I'd been ghostwriting weekly articles for executives on how to think about and move forward after the pandemic. Our conversation turned into the six-part webinar series that addressed:
Updating your brand, messaging, and tone for today's new realities
Formalizing the innovation lessons behind why some companies could change dramatically within days during the pandemic
Rethinking your brand and growth strategy to address lower demand expectations
Finding ways to deal with peak demand (and potentially lower capacity) after the shutdown
Redesigning your customer and employee experience strategies
Pushing ahead with change since the pandemic has removed many traditional innovation barriers
Based on responses from webinar participants, I'm excited about incorporating these frameworks and tools from The New Important into our strategy, branding, and innovation work for clients and the simplified strategy eCourse we launched. Plus, just this week, we've finalized an agreement with the Treasurer's Office of the State of California to deliver a two-part webinar series on The New Important for the state's small businesses.
If you are an executive facing these challenges (or, like Zane, an association leader trying to help your members succeed), we'd love to talk about how we can get these actionable strategy lessons into your hands. The possibilities include:
Are you on-time or behind to update your strategy?
Intrigued? Send me an email or contact us, and let's talk right away. Let me know which of the six webinar topics of greatest interest to you, and we'll email you a copy of the associated eBook as a sampler for our discussion.
Now, is the time to get in front of your market as all organizations are having to rethink successful strategies.
If you've been incorporating Brainzooming content into your strategic thinking to this point, this actionable content on The New Important is exactly what you need to grow and pivot your business in a pandemic-shaped world.– Mike Brown