As a Brainzooming reader, it's a foregone conclusion that you are an Idea Magnet! That's why we wanted to give you this exclusive offer.
Idea Magnets Is Available on Amazon
Idea Magnets: 7 Strategies for Cultivating & Attracting Creative Business Leaders, the Brainzooming book on daily innovation, is available on Amazon.com.
Idea Magnets shares seven strategies for becoming a more dynamic leader who inspires extreme creativity and innovative success by naturally incorporating these strategies into work and personal life.
Using Idea Magnets strategies, you'll be able to envision new creative paths that deliver powerful impact, attract new ideas and people, and strengthen your leadership. This leads to greater fulfillment for you and everyone around you!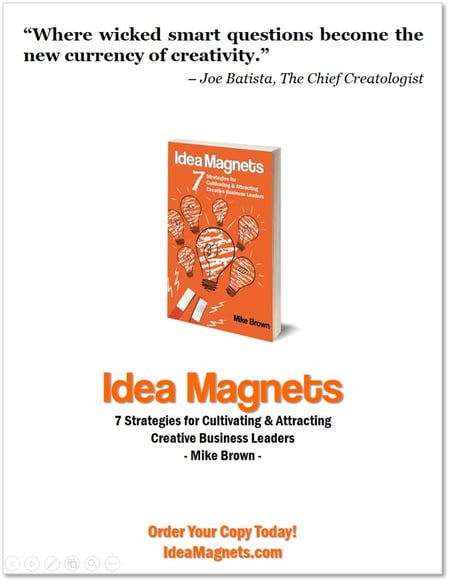 An Exclusive Free Offer for Brainzooming Readers!
If you purchase your Idea Magnets print or Kindle version on Amazon, you can also get a copy of The Idea Magnets Creative Recharge for free. This companion eBook shares strategies that build on the seven strategies in Idea Magnets. It offers fun approaches for recharging your creative energy. To grab your copy, go to IdeaMagnets.com/recharge and enter your contact information and the Amazon order number from your Idea Magnets print or e-book purchase.
We're excited that you are part of Brainzooming family and look forward to benefiting you with the helpful strategies in Idea Magnets! – Mike Brown