For fun, wanted to share two examples, one bad and one great, of restaurant marketing.
Bad Restaurant Marketing

This shot of the local KFC is from a recent trip back home in Hays, KS. It has a variety of problems: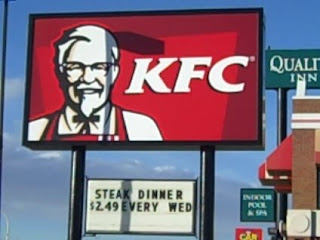 A steak dinner for $2.49 stretches the bounds of credibility. A price that's TOO low, doesn't say value; it says WATCH OUT!
Extending KFC into steak doesn't work either. Who is looking for beef when they see the Colonel's white goatee and suit?
It's misleading. When I showed it to my mom, she said it's actually a CHICKEN FRIED steak special. But that's not what the sign says. Maybe everybody in Hays knows that, but just driving by, you figure it's an overly ambitious franchisee run amok.
Great Restaurant Marketing
In contrast, this February special from Houlihan's is creative and on-target for several reasons: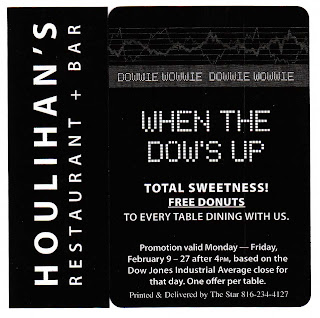 It's tied into current events - It builds off of people's attention to the stock market. Any day in February when the Dow was up, everyone got free Italian donuts. On days when the Dow closed down, customers received a coupon for a free appetizer on the next visit.
It drives business when people are watching dollars - The Italian donuts are a higher-priced desert relative to Houlihan's other small portion deserts. Inducing trial is likely to spur future sales since they're incredibly good (trust me - I've tried them more than once). In the alternative, on down days, getting benefit from the coupon requires another visit to Houlihan's.
There's some built-in sizzle - The promotion includes an opportunity to win a $5000 savings bond. Strong because it gets attention, has a high perceived valued, and costs Houlihan's much less than that figure.
It has built-in free advertising support - Once getting over the hurdle of people knowing about the promotion, think about how many media outlets provide 5x per week prompts on the Dow's performance. It's all free advertising.
Great marketing doesn't have to be complicated, but it surely benefits from strategic thinking and implementation. Great job Houlihan's!