During a strategic thinking skills workshop for a client, we shared ideas for taking information from varied sources and identifying strategic themes.
One slide during the workshop focused on analysis styles and featured two contrasting images.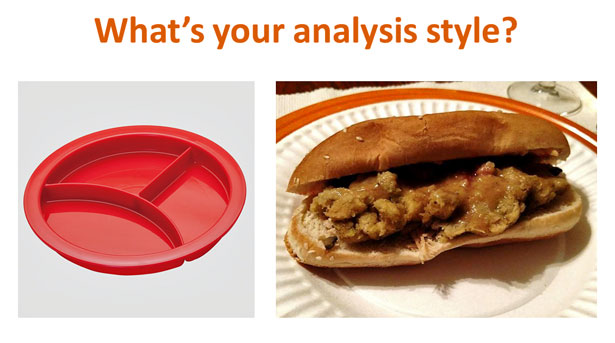 The image on the left is a divided plate (affiliate link) intended to keep all your food items separate from one another and in the places you originally placed them.
The image on the right may be harder to identify. It's a "Thanksgiving Sandwich." I had previously seen them on Diners, Drive-in, and Dives. I ate one for the first time at a sandwich shop at the Las Vegas airport. The one in the picture was made at home right after Thanksgiving. It includes turkey, stuffing, gravy, and cranberry sauce on a roll. My own special addition was a schmear of pumpkin spice cream cheese on the top bun, creating a true flavor explosion. In one bite, you taste the main course through the dessert of a Thanksgiving dinner.
The picture represents two approaches to strategic thinking skills that analysts I've met throughout my career display.
Most analysts from a quantitative research background tend to be like the image on the left. They focus so much on keeping data straight and linked to underlying sources, that they simply report what's there with the numbers on the surface. They are grossed out by the idea of mucking around in all the data and putting multiple sources and analysis looks together to learn new things that aren't apparent when information is kept separate.
While the link to source data and keeping everything straight is important, it only goes so far.
I've met far fewer analysts comfortable with the strategic thinking skills involved in smooshing everything on the "data plate" together to create something akin to the Thanksgiving sandwich. It's only when you start experimenting and combining information, perhaps from very different sources, that you often begin creating explosive new insights. This type of analysis really is like the Thanksgiving Sandwich in that you recognize all the original flavors (i.e., the source data), but experience them in an entirely new and wonderful combination.
In answering the question about what kind of strategic thinking skills and analysis you're comfortable with performing, the answer should be BOTH types. You need to like making sure you have knowledge and credibility behind the source information. At some point, however, you have to smash it all together and see what amazing things might happen.
If you find yourself in one strategic thinking skills camp or the other, you need to try how the other half eats data.
You'll enjoy it! - Mike Brown
Download our FREE "Taking the No Out of InNOvation eBook to help you generate extreme creativity and ideas! For organizational innovation success, contact The Brainzooming Group to help your team be more successful by rapidly expanding strategic options and creating innovative growth strategies. Email us at info@brainzooming.com or call us at 816-509-5320 to learn how we can deliver these benefits for you.