Some strategic thinking questions are brand new, or at least appear in brand new forms, ready to meet a specific business need. Other strategic thinking questions are well tested and, unfortunately, underused even though they are applicable in so many situations.
One example of the latter type of strategic thinking questions is, "What are we trying to achieve?"
This question sits front and center whenever we are talking strategy with a client or teaching a creating strategic impact workshop or delivering any other type of presentation where strategy is a theme (i.e., social media and content marketing strategy, brand strategy, sponsorship strategy, etc.).
We even put it near the start of the "Staying Sane as a One-Person Social Media Department" presentation at the Social Media Strategies Summit. One of the tips solo social media professionals identified for their peers in the survey we conducted among the group is getting comfortable in saying, "No." That is great advice, but you cannot typically get away with saying, "No," capriciously. You should have a strategic rationale behind what you are saying.
And that is where there is such value in the question, "What are we trying to achieve?"
mad scientist Mike @brainzooming with another home run about business strategy. #SMSsummit pic.twitter.com/4F1L9KhbYj

— Jordan Ramey (@jordanramey) February 12, 2015
Beyond, helping you say, "No," it helps address all these situations:
Create strategy - If you can pin down what you are trying achieve, you can apply creative thinking to how you accomplish it.
It helps you prioritize - Knowing the various things you need to achieve allows for prioritizing them in importance.
Focus your work - As things change and people suggest ill-founded strategy changes, you can come back to your strategic priorities in order to re-focus.
Produce metrics - You can begin to put numbers to what you are trying to achieve and determine related metrics suggesting whether you are on the right track.
Gain supporters - The answer to what you are trying to achieve helps communicate with others and build enthusiasm and action (or address why people are not enthusiastic or ready to act).
Grow in influence - Being a more consistent leader often sets you apart from so many other individuals inside organizations.
With all those benefits, that's why I told the solo social media professionals in the audience that even if they felt alone, this one strategic thinking question worked so hard, it would be like having another member on the team. The same goes for you. If you have not been taking advantage of this team member, put it to work starting today! - Mike Brown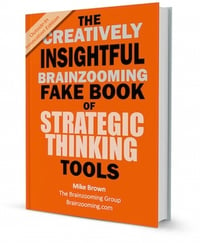 Are you making the best use of customer input and market insights to deliver innovation and growth? Creating successful, innovative new products and services has never been more dependent on tapping perspectives from outside your organization. This new ebook features sixteen strategic thinking exercises to help you ideate, prioritize, and develop your best innovative growth ideas.
Download this free, concise ebook to:
Identify your organization's innovation profile
Learn and rapidly deploy effective strategic thinking exercises to spur innovation
Incorporate crowd sourced perspectives into your innovation strategy in smart ways