We were listening in on an internal innovation strategy call conducted by one of our clients. The team was wrestling with a concern voiced by the organization's senior leader that its complete innovation portfolio wasn't capable of yielding the financial impact he is seeking. The key question was, "Where's the beef with this innovation strategy?"
The sense of unease among the organization's innovation team leaders was palpable. They were feeling a need to scramble. They seemed ready to jump through hoops to justify the innovation strategy to the CEO. However, that would have entailed veering from their well-considered implementation plans.
3 Questions When the Innovation Strategy ROI Doesn't Satisfy the Boss
Before they deviated from their very solid innovation strategy approach (only some of which we helped shape—they've been doing great work on their own), I challenged them to consider three questions:
#1. Is there a legitimate basis for the C-Suite challenge to their innovation strategy?
Does the organization truly lack innovation, or is the senior leader lacking awareness and understanding of the work the team has already accomplished? If they can't answer that question upfront, they risk a lot of potentially unnecessary effort.
#2. Is there a standard methodology for quantifying the impact of the innovation strategy?
If yes, does it support the CEO's perspective? If there isn't a standard methodology to project and quantify the innovation strategy impact, it would be a better use of their time to develop one, rather than launching a disruptive CYA effort.
#3. If the team lacks innovation opportunities with a significant financial impact, what can they do to quickly find or create them?
Since it's far better to scramble for progress than to take a CYA approach, what steps do they need to take to make this happen?
Where do you start looking for the innovation strategy beef?
In a follow-up call, they were still evaluating the need to pump up the number of new ideas to deliver the beef to the CEO.
Hearing they had still not answered these three questions and we're trying to come up with more ways to generate more ideas, I cautioned them, using an analogy: they should answer the question about where the beef is by going to the fridge and putting a patty on the grill. Instead, they were primed to go out into the fields to look for more cows. The problem is that cows are difficult to find, and new cows don't often yield the expected beef.
I'm hoping they are going to concentrate and invest their efforts into developing existing ideas, even if at the same time they're pulling out all stops to get the CEO a satisfactory response.
Should you find yourself in this unenviable-yet-crucial position within your own organization, I encourage you to consider the questions above. They may just mean the difference between progress and business as usual! – Mike Brown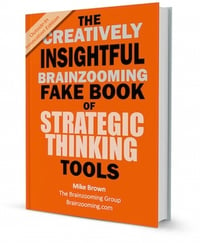 Are you making the best use of customer input and market insights to deliver innovation and growth? Creating successful, innovative new products and services has never been more dependent on tapping perspectives from outside your organization.
This new ebook features sixteen strategic thinking exercises to help you ideate, prioritize, and develop your best innovative growth ideas. Download this free, concise ebook to:
Identify your organization's innovation profile
Learn and rapidly deploy effective strategic thinking exercises to spur innovation
Incorporate crowd sourced perspectives into your innovation strategy in smart ways