Data about your website is great.
Data patterns related to your website are even better.
Having big data to tell you how people react to different scenarios and situations on your website is the best yet.
When you are just launching a website, however, you may not have any data.
When that's the case, either you can design something that fits a design aesthetic, or you can take what you know, answer sound strategic thinking questions, and design a website that makes strategic sense.
Strategic Thinking Questions - 3 Questions for New Website Design
We were looking at a new website the other day designed for the user to "scroll, scroll, and keep scrolling." The nagging strategic issue was, "Why in the world would an audience member want to keep scrolling?"
To help the website creator through the strategic thinking to answer this question, we put together the strategic thinking exercise below. It lists each of the main pages of the website down the left column. Across the three columns to the right are three strategic thinking questions, all asked in the voice of the user:
"Why should I stay interested?"
"Why should I keep looking for more information?"
"Why should I buy something now?"
We used these three questions to quickly review the copy and design of the new website. Our objective was to have a solid, compelling answer to at least one of the three questions based on the first look at each of the website's main pages.
Strategic Questions to Improve Design and Copy on a New Website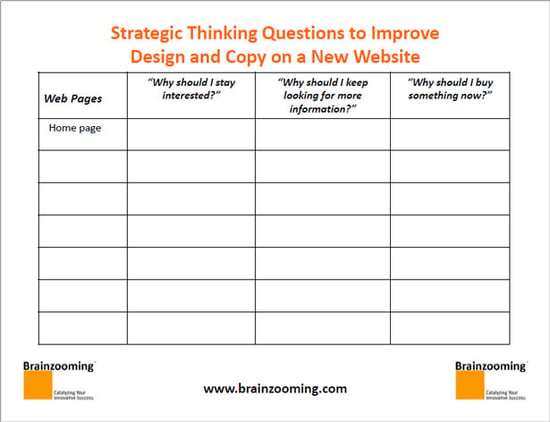 We used the three strategic thinking questions on a first pass review of the website. The questions helped us strengthen copy, make decisions on where to place key features, and changed perspectives about whether certain functionality made sense or not.
Our decisions weren't data-driven because we don't have any data on the website. The three strategic thinking questions definitely proved to be hard workers, however, for checking whether a brand new website offers compelling reasons for users to engage.
If you're in a similar situation, grab a copy of this strategic thinking exercise and see how hard it can work for you! – Mike Brown
"How strong is my organization's social media strategy?"
Is your social media implementation working as well as it can? In less than 60 minutes with the new FREE Brainzooming ebook "9 Diagnostics to Check Your Social Strategy," you'll have a precise answer to this question.
Any executive can make a thorough yet rapid evaluation of nine different dimensions of their social media strategies with these nine diagnostics. Download Your Free Copy of "9 Diagnostics to Check Your Social Strategy."