Today, I'm with a fun client, teaching a half-day Idea Magnets workshop on strategic thinking in leadership.
The audience? Their newly-formed leadership team.
The challenge? I have THREE days of Idea Magnets-based content about strategic thinking in leadership that I'd love to share!
As a resource for them (and for you), here is a mega-compilation post on strategic thinking in leadership.
Strategic Thinking in Leadership
From our perspective, strategy and strategic thinking are different.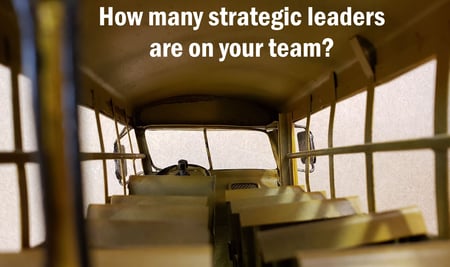 We define strategic thinking as addressing what matters with insight and innovation. Its goal is to create a willingness to address challenging issues and to inspire people to use their imaginations as they envision many possibilities, turning the best ones into realities.
While setting strategy may be the responsibility of senior management, we FIRMLY believe and readily share an important idea: strategic thinking and leadership need to happen throughout any organization.
Here's how we contrast these two important business functions.
Strategy involves:
Setting the organizational direction
A subset of people with responsibility for determining it
Specific time windows where it is reviewed and determined
Strategic Thinking & Leadership involves:
Shaping & implementing the strategic direction
Engaging everyone in the organization to participate
Daily attention and focus
What Is Strategic Thinking in Leadership?
Using the three-part strategic thinking definition and four important elements of strategic leadership, here is the workshop's content:
Strategic Thinking Focuses on What Matters
Strategic Thinking Depends on Insights
Strategic Thinking Leads to Innovation
Quick Decision Making
Engaging Employees
Anticipating Forward-Looking Change
Delivering Consistent Performance
We conclude the workshop with an important idea: ultimately, all you can control is the integrity of your effort. That, in many ways, is your one job. Everything else springs from this. – Mike Brown
Leaders need high-impact ways to develop employees that can provide input into strategy and then turn it into results. This Brainzooming mini-book, "Results - Creating Strategic Impact" unveils ten proven lessons leaders can use to boost collaboration, meaningful strategic conversations, and results.
Download this free, action-focused mini-book to:
Learn smart ways to separate strategic opportunities from the daily noise of business
Increase focus for your team with productive strategy questions everyone can use
Actively engage stakeholders in strategy AND implementation success