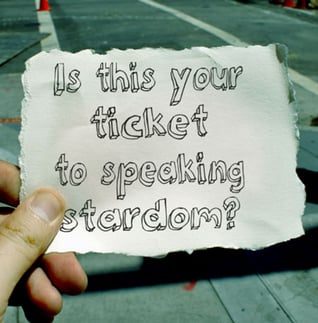 I was meeting with someone and talking about speaking engagements. She said she hadn't had time the time to break into speaking, although from her background, it would make sense for her career. She asked how I started doing more speaking. While I was happy to provide the short story, I warned her it might not be the best strategy to pursue.
The strategic thinking behind my initial push to start speaking was realizing I needed to gain more exposure outside the corporation where I worked. Having been there most of my career, I'd done some outside speaking engagements, typically ones our CMO couldn't or didn't want to make, to share the strategic thinking and implementation behind our corporate turnaround.
When I decided to speak more frequently, I parlayed those initial connections along with scouting out other conferences that made sense, volunteering for association-based events, and asking people who had seen me speak to refer me to others.
By and large, I was doing free speaking engagements, simply to get more exposure and broaden the range of strategic thinking topics where I had to develop content. After a time, free presentations turned into getting travel covered and the occasional paid engagement. After a lot of free speaking, even at repeat events, I was able to routinely get paid for speaking engagements.
Strategic Thinking about What Free Speaking Engagements to Accept
If you try to start that way, how do you decide which free speaking engagements to do and which to decline?
I never found a simple answer, but these 15 questions were my rough checklist for what to select. You have to weight the criteria to fit your ambitions and interests, and I'll admit my expectations for the number of "yes" answers was pretty low.
Does speaking on the requested topic strengthen your position in a core area of expertise?
Does the requested topic stretch you into new content areas that make sense?
Does the organizer or event have name value to help flesh out the list of groups you have spoken to previously?
Is there some type of value exchange with the organizer, even if it isn't a direct payment or honorarium?
Are other speakers on the agenda that strengthen your list of "speakers you've shared the stage with"?
Will researching, developing, rehearsing, and delivering the content take a "reasonable" amount of time?
When you add in the travel time involved to the previous question, is your answer "yes"?
Will the organizer provide video or audio recordings you can use to promote yourself for future speaking gigs?
Is there a clear business development opportunity (if that's relevant for your objectives)?
Is there a sufficient crowd expected to give you the audience size you'd like for a successful presentation?
Does the time window in the conference for your presentation fit with your preferences?
Is the location for the presentation one you'd like to visit?
Does speaking here pay back a favor to someone or create a future favor coming your way?
Will you be able to learn and gain professional development through attending the event?
Will the organizer agree to a written or video recommendation - either directly or on Linkedin?
Thinking back on some of my last free speaking engagements you should have at least 7 or 8 yes answers to do a free gig if you're just starting. Fewer than that and it doesn't seem you're getting enough from the engagement to warrant the time investment you'll invest to completely nail it.
Have you been speaking to enhance your career? If you do free speaking engagements, which ones do you decide to accept and decline? - Mike Brown