As we mentioned recently, we're on the lookout everywhere for strategic thinking exercises to share.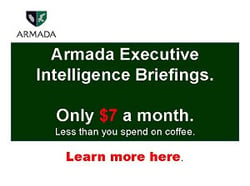 We spotted a recent "Inside the Executive Suite" feature from the Armada Executive Intelligence Briefing featuring a thirteen-question checklist for strategic change management. The origin for the strategic change management list was two stories in the Wall Street Journal. One story covered Wal-Mart CEO Doug McMillon and the other Apple CEO, Tim Cook. Both CEOs are in the midst of trying to change what have been very successful companies over the long-term.
While issues (some major) exist for both Wal-Mart and Apple, the Inside the Executive Suite piece offered the strategic change management checklist as an example of introducing more aggressive innovation and change management when a company doesn't exactly seem to need radical change.
A 13-Point Checklist for Strategic Change Management
If you're contemplating (or even in the midst of) making dramatic changes within your own organization, this list is helpful as a strategic thinking exercise to make sure you're considering the breadth and depth of changes two pretty successful companies are undertaking.
Are you getting as close as possible to the customer to understand what's working (or isn't working) for them?
Are you challenging yourself and the organization by strengthening your leadership team?
Have you looked beyond your immediate organization chart to identify people with important perspectives to fuel innovation and change?
Are you taking steps to invite external parties to help fuel more innovation and improved customer experiences for your brand?
Are you open to matching smart competitive moves you've been slow to previously adopt?
Are you learning from the new competitors who are beating your company in new ways?
Are you pushing prototypes, trials, and pilots to dramatically increase the pace of innovation?
Are you making the small internal changes necessary to pave the way for bigger, higher-profile moves?
Have you been willing to go against what brought you earlier success when it might not work in the future?
Is your organization investing in vital areas where competition is going to be waged now and in the future?
Can you stomach making longer-term investments that are critical to growth?
While advocating innovation, are you still emphasizing the fundamentals that haven't changed?
Are you willing to be a different type of leader at a different type of company?
Using this Strategic Thinking Exercise to Creating Strategic Impact
The "Inside the Executive Suite" article acknowledged that since the list was just developed, there's no specific number of "Yes" answers to suggest your organization is definitely on the right track or not for creating strategic impact.
Instead, you can use this strategic thinking exercise as a great way to frame up your strategic change management agenda and push for appropriate innovation levels well before you're in a "must-change now" situation. – Mike Brown
The Brainzooming Group helps make smart organizations more successful by rapidly expanding their strategic options and creating innovative plans they can efficiently implement. Email us at info@brainzooming.com or call us at 816-509-5320 to learn how we can help you enhance your brand's innovation strategy and implementation success.