How about a video blog for a change?
We've toyed with featuring more video blogs and finally decided to pursue the idea. While this format (an informal video while driving) may not be the one we continue using, it made sense for this video on strategic relationships and taking your hands off the wheel.
The topic of taking your hands off the wheel when working in strategic relationships with smart outside service providers has been kicking around for some time. The delay in publishing anything on it has been my reluctance to use a NSFW phrase that perfectly describes the predicament of a client not giving a professional services provider the latitude to bring their knowledge and skill to bear to benefit the client. While everyone I've shared the NSFW story with completely understands the message, it has never been an angle I wanted to use here.
Strategic Relationships - Take Your Hands Off the Wheel
The other day, however, the idea of client being willing to let a professional services provider "drive the car" after they've been hired suddenly clicked.

Enjoy the video and stay tuned for more future Brainzooming videos! – Mike Brown
Looking for Ways to Develop a Successful
Innovation Strategy to Grow Your Business?
Brainzooming Has an Answer!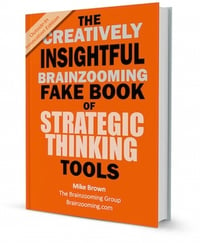 Business growth can depend on introducing new products and services that resonate more strongly with customers and deliver outstanding value.
Are you prepared to take better advantage of your brand's customer and market insights to generate innovative product ideas? The right combination of outside perspectives and productive strategic thinking exercises enables your brand to ideate, prioritize, and propel innovative growth.
Download this free, concise eBook to:
Identify your organization's innovation profile
Rapidly deploy effective strategic thinking exercises to spur innovation
Incorporate market-based perspectives into your innovation strategy in successful ways
[sc:Outside-In ]