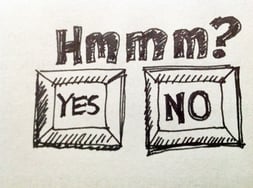 Developing a new presentation on "Doing New with Less," I realized we had not published a list of strategic questions for reviewing creative design work.
We have covered the idea that asking yourself whether YOU like a piece of creative is typically not appropriate unless you are in the target audience. But what strategic questions SHOULD you ask when reviewing creative work?
19 Strategic Questions for Reviewing Creative Design Work
After first making sure you have the strategic creative brief prepared to guide a creative design effort, here is a list of nineteen strategic questions for reviewing creative work:
First question - Does this creative design address the objective and carry out the strategy successfully?
How is the creative design working harder than expected to carry out the strategy and objectives it needs to address? Or does the creative work veer off into interesting creativity that falls short of the intended strategic objective?
What will the target audience think about the creative work? (Remember that is not "you," unless you also happen to be a member of the target audience.)
Is the creative design consistent with the overall brand direction and other strategic efforts (assuming that was the intent)?
How does the creative work integrate with other creative design elements for the brand?
Do the images in the creative design work alone without any text or other supporting elements? Does the text work alone without images? Do the sound and/or video elements (if any) work by themselves? If you pull apart the individual pieces of the creative work in this way, how much of the intended message does each creative element convey standing on its own?
Does the creative work appropriately account for the amount of time an audience member will most likely spend processing it?
Will the creative work grab the audience's attention within the environments in which we will feature it? Will it keep someone around to go beyond more than just the initial impression? Does the creative design also work outside the intended environment?
Does the creative design put the product or service in its relevant competitive category while setting it apart from the rest of the category?
Is there a clear call to action within the creative work? Will the audience understand what they could or should do next?
Does the creative work meet the mandatories in the strategic creative brief?
Are there ways the creative execution can work harder while still being on strategy?
What strategic questions do you use?
Those are some of the questions we use in review creative work of all types. What strategic questions do you use? Please share them and let's add to this list. - Mike Brown