One of the most popular Brainzooming blog posts the past few years is rich in strategic thinking tools. It features more than 200 strategic thinking questions we've gathered, envisioned, and created going back to The Brainzooming Group origins as a corporate strategic planning department.
The Brainzooming Group has created and published many more questions since then as part of our portfolio of strategic planning tools. We decided recently to update the post. While doing so, we realized we'd added nearly four hundred more questions since the article's original publication date.
Strategic Planning Tools - 600 Most Powerful Strategic Thinking Questions
Rather than hit you with an updated mega-post of 600 questions, we decided to compile the links, organize them, and share the update with you in an easier-to-use eBook: The 600 Most Powerful Strategic Planning Questions (The Brainzooming Group Uses. So far.)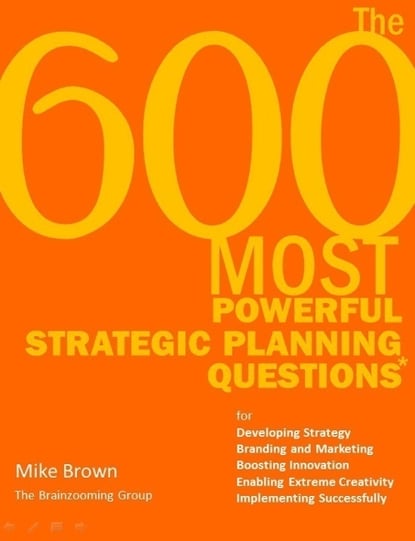 This eBook's questions cover the areas we address here and in our client work, including:
Organizational strategy
Innovation
Branding, naming, and marketing
Customer experience
Creativity
Implementation
While you may associate strategic planning tools with year-end activities, you will use and find these question links valuable throughout the year. They will help you:
Stretch and re-orient conventional thinking
Stimulate creativity (even among people not seeing themselves as creative)
Improve meeting efficiency and effectiveness
Align diverse activities to common strategic themes
And since we use what we publish, we've already found having the eBook on a phone helpful. You can quickly link to questions when you are in a meeting that isn't delivering the results you expect. Pop open the eBook and grab a question or two to orient everyone toward more productive discussions.
Yes, we're serious: these are the links to our 600 most powerful strategic thinking questions, all in one of the best strategic thinking tools you'll download for FREE all year long! – Mike Brown