We're all likely involved in relationships tied to coaching, mentoring, or just plain supporting one another. They're tremendously helpful in personal and business growth, yet at times, these relationships can become stale.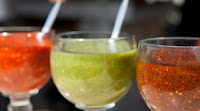 What can you do if you find yourself in such a relationship? Here are a few options to spice things up:
Add a Person: I've been working out for more than three years with the same trainer. The results have been great, yet at times, we tend to fall into the same routines. When my niece was visiting last month, she went along as a guest trainee. The spirit of competition improved my effort and also created some new enthusiasm from my trainer.
Reverse Roles: I've got a great career coach who can amazingly have one meeting with me that creates about nine month's worth of activity and progress. Recently we got together for lunch and turned the tables: I was able to provide some coaching for her on new possibilities she's considering. It was of benefit to her, and it was really exciting for me to give something back to someone who has done so much to help me!
Schedule a Reunion: Early in my career, a group of us working as analysts for a challenging boss formed a tremendous bond as we tried to survive and figure out what we'd do with our careers. We don't get together often anymore, but we met for a happy hour recently to renew our friendship and share perspectives on what each of us is doing now.
Take a break: If you find a once thriving coaching relationship has stalled, consider seeing other people. The break could be temporary or permanent, but may be just the thing to open up time to find other relationships that work better for both of you right now.
Give one or more of these a try so you can keep moving forward with renewed enthusiasm! - Mike Brown