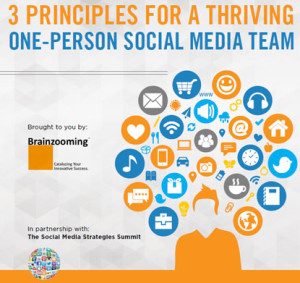 Speaking at content marketing and social media strategy conferences, I meet many individuals in social media specialist roles handling social and content marketing duties for their companies as one-person departments.
What amazes me is that these are not just people from smaller companies. Even many big brands place all the responsibility for their social and content marketing on a single social media specialist. One study reported, in fact, that 42% of individuals with full-time social media strategy and implementation responsibilities are flying solo.
When you ask a solo social media specialist about the job's issues, they report a variety of challenges, including:
Trying to manage strategy and tactics
Being pulled between competing priorities
Creating social campaigns that produce business results
Lack of time
Producing enough content
Lack of budget
For a solo social media specialist to work effectively, it's important to know ways to save time, increase focus, improve performance, boost efficiency, and create more productive content.
If your time, attention, and dollars are stretched thin carrying out your brand's social media strategy by yourself, you need to download the new eBook from The Brainzooming Group, "3 Principles for a Thriving One-Person Social Team."
We've partnered with The Social Media Strategy Summit to make this FREE eBook available to all our Brainzooming readers. Within the eBook, you will learn actionable ideas to:
Use your company's business strategy to better focus and streamline your content creation
Take advantage of "whole brain metrics" to more thoroughly document how your work contributes to success
Develop a simple, action-oriented content planner
Smart ways to produce and distribute more of the right content in less time
Extend your team to motivated, knowledgeable "volunteers" within your organization
If these sound like ideas that will let you do more with greater effectiveness and in much less time, we invite you to download our new eBook TODAY to boost your success and results as a solo social media professional! – Mike Brown