Talking with an organization about its social media content strategy, I asked how it was incorporating its long list of organizational "characters" into its stories. It was clear from the reaction this was a new concept.
Building a Social Media Content Strategy with Characters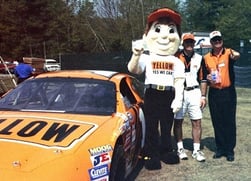 An organization's "characters," as we think about it for social media content strategy, are the people, places, and events from throughout an organization's history that were or are memorable personal contact points audience members associate with the brand.
In this instance, the organization was a private school. While many teachers were long gone, they are still notable characters in the school's story for its alumni. Memorable students themselves are also characters for the school. Even the school's buildings, its classrooms (many of which have not changed all that much over time), and significant events (for the school overall and for individual classes) can be characters in its social media content.
I recommended that whenever an alum visits the school and takes a tour of the "old school," it is an unbelievable social media content opportunity because of the rich intermingling of characters.
Relative to teachers who have not been at the school in twenty or thirty years, the school could share where they are at and what they are doing. Incorporating these strong characters into the school's social media content will attract the attention of the alums it is targeting to keep them involved in the school both emotionally and financially.
Who are the characters in your organization?
Have you identified both the obvious and surprising characters for your organization? Have you fully stretched your strategic thinking to expand the repertoire of characters your brand can incorporate into your social media content to better intrigue your audiences? – Mike Brown
A Special Offer for Brainzooming Blog Email Subscribers
If you'd like a copy of two strategic thinking exercises you can zoom through to get your brain exploring and expanding the list of brand characters available for your social media content strategy, reply back to today's Brainzooming blog email and let me know. I'll forward you a copy of the free exercises for your use.
And if you're not a subscriber yet, click this link to subscribe to the blog today, activate the subscription, and reply to your first Brainzooming blog email tomorrow to request your copy of the same strategic thinking exercise.