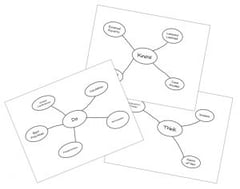 Whether creating social media content for yourself or for an organization you support, here's an easy-to-use strategic thinking exercise for generating relevant topic ideas. Consider three vital areas:
What do you Think?
What do you Know?
What do you Do?
Consider your target audience's needs and interests as a backdrop. Then use Think, Know, and Do as starters for three mind maps to help explore a range of social media content ideas.
Working with Nate Riggs at Social Business Strategies, we used this exercise with a business-to-business service client recently as part of developing content strategy for its collaborative blog. The organization's new social media team generated nearly 140 separate topic ideas in just 15 minutes. We accomplished this by having small groups rotating among the mind maps and building on ideas already generated. We had the team use a variety of other exercises as well to quickly generate more than a year's worth of blog topic ideas in a very short period of time.
Think, Know, Do.
What do those three words suggest for potential topics about you or your organization?– Mike Brown
The Brainzooming Group helps make smart organizations more successful by rapidly expanding their strategic options and creating innovative plans they can efficiently implement. Email us at brainzooming@gmail.com or call 816-509-5320 to learn how we've developed integrated social media strategy for other brands and can do the same for yours.