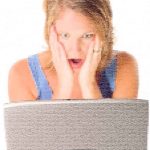 It's a challenge to objectively examine your own website as if a prospect or customer seeking information would. There's a strategic thinking approach you can follow to get ideas flowing though: Look at a direct competitor's online presence, trying to shoot holes in it based on how a customer might view it.
You should really be able to get into it by answering a few questions:
What misleading or out-of-date information is presented?
What's not compelling about the website?
What's confusing about the navigation?
How much unnecessary detail do I have to supply to get a copy of the "free" download?
What questions do I have that the website doesn't answer?
Do I know where to get my other questions answered?
In what ways did I get smarter by browsing this website?
In what ways were my information needs left wanting?
After doing this, go back and see how your own online presence compares. Looking at yourself from a customer perspective should now be much easier! – Mike Brown
The Brainzooming Group helps make smart organizations more successful by rapidly expanding their strategic options and creating innovative plans they can efficiently implement. Email us at info@brainzooming.com or call 816-509-5320 to learn how we can develop an integrated content strategy for your brand.