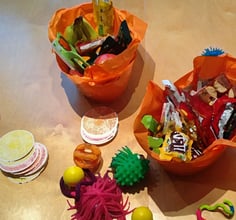 I've been behind both some incredibly productive business meetings and some horrendous business meeting failures that went way far south for various reasons. While it's impossible to guarantee having productive business meetings, these sixteen questions meeting leaders to ask WILL help minimize chances for meeting disasters:
16 Questions to Ask for Leading Productive Business Meetings
What is the business meeting objective – organizationally and individually?
How could holding pre-meetings with key participants help better plan the meeting topics and flow?
What are the best ways to uncover ahead of time the challenging and controversial topics that may come up "by surprise" in the business meeting?
How soon do I need to make an agenda available with topics, time ranges for each discussion, and expected take-aways for the meeting?
If this is a regularly scheduled meeting, what are the group's previously-made decisions that need to be posted so we don't go back and waste time revisiting them?
How early should I have to arrive at the meeting location to make sure everything is ready?
Is the seating arrangement conducive for the meeting objective (including making sure the participants intermingle)?
Would there be value in identifying what customer benefits the meeting is expected to produce?
What will be the cost of the meeting based on each person's approximate hourly rate times the meeting length?
Does the meeting cost make sense relative to the financial impact of the issues and decisions under consideration (i.e., don't have a $5,000 meeting for a $500 issue)?
What's the plan for ensuring that all participants are contributing toward accomplishing the meeting objective?
Who will facilitate the meeting if I'm not doing it?
Who will be the note taker within the meeting?
Will the meeting note taker be the same person who compiles the meeting notes?
What's the plan if we fall behind the agenda in achieving the meeting objective?
What are the best options to summarize the meeting notes based on meeting themes, conclusions, recommendations, and/or next steps?
What else should meeting leaders account for in their meetings?
These are all questions we try to answer and account for in business meetings. What else should meeting leaders be paying attention to and implementing for productive business meetings?