Here's the second installment of posts intended to demonstrate it's true that pictures of creativity are worth a 1,000 words.
Creativity and Fun Amid Creativity
This photo from the Google Fiber Gigabit City brainstorming session The Brainzooming Group facilitated in early October at the Kansas City Missouri Public Library is a favorite among these pictures of creativity. Lisa Qualls (right) was facilitating the "Urban Core" group at the Google Fiber brainstorming session and took her group outside to the deck at the Kansas City Missouri Public Library to enjoy the early fall day and instigate additional creativity on building Kansas City as a Gigabit City (with help from Jean Gleason).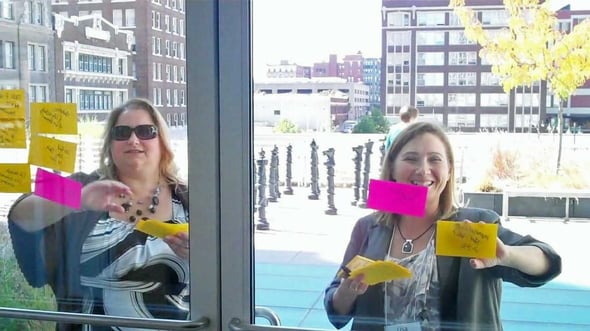 This picture is from the Arbor Day Farm in Nebraska City, NE. The photo was taken following the Dimensions Education Research Foundation board meeting (my first) as we toured the Nature Explore classroom there. For someone who struggles with putting away what I'm using in my creative pursuits, I love letting kids have a messy outdoor area where creative materials are left in the open. Now, if I can just get that type of thinking extended to adults . . . at my house!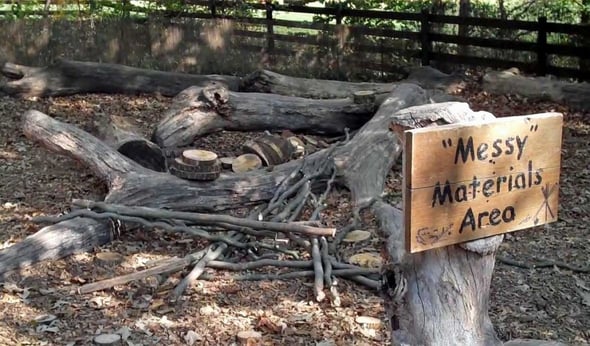 Co-opted Creativity
I'd bet money this character is the A&W Papa Burger character from back in the day. Located outside the Dairy Sweet (in some town I can't remember) on the road between Kansas City and Nebraska City, the fact he had a hamburger was enough to put him in front of a hamburger and ice cream shack, no matter where he originated. Are there creative ideas sitting right in front of you which would be really cheap to use as long as you can get over not created here attitude?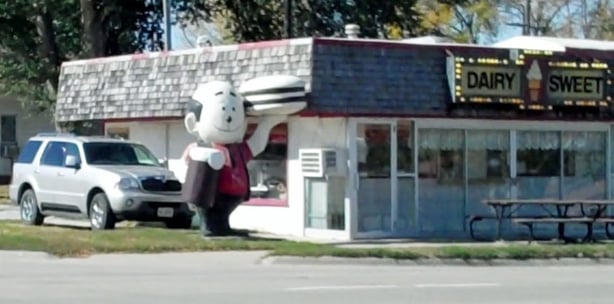 Fun Food Creativity
eggtc. in Kansas City has such fun food specials. While my all-time favorite was Oreo Pancakes (two chocolate pancakes, a cream filling, and crumbled Oreos on top), I couldn't resist the Green Eggs and Ham when we went there recedntly! Pesto was the greening ingredient. They tasted great, although the eggs could have been even greener. What ideas can you grab from popular culture and turn them into reality for your customers?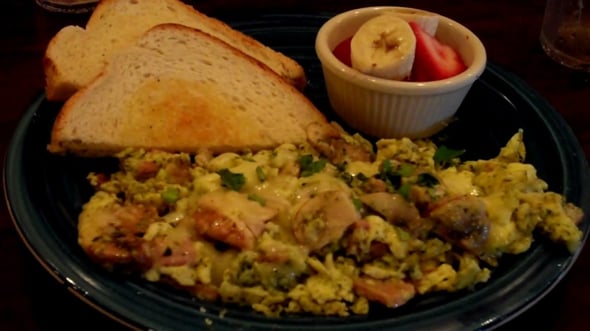 We're on the Eve of Creative Destruction
I have no idea whether this airport advertisement accurately reflect the CBRE attitude during periods of intense uncertainty and apparent chaos. But whether it does or not, I really appreciate the sentiment of acting when the experts are saying (whether because of self-interest or apprehension) it's time to sit on the sidelines. Fantastic idea; difficult to do.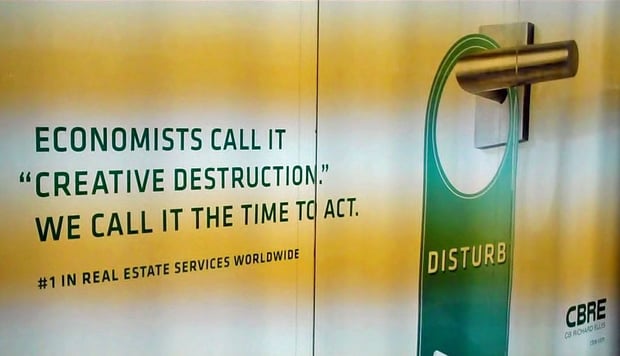 Download the free ebook, "Taking the NO Out of InNOvation" for help in better using creative thinking exercises! For an organizational boost, contact The Brainzooming Group to help your team be more successful by rapidly expanding strategic options and creating innovative plans to efficiently implement. Email us at brainzooming@gmail.com or call us at 816-509-5320 to learn how we can deliver these benefits for you.