I took the picture below at the gym on Saturday afternoon. The TV over the treadmill displayed pre-race coverage of the Xfinity NASCAR race in Daytona. I was probably the only person smiling widely as former drivers Jamie McMurray (center) and Michael Waltrip (right) sitting next to each other. The broadcast marked Jamie's debut as a full-time racing analyst for Fox as he transitioned to a new career after driving his last race the next day. For everyone else, it was a racing broadcast. For me, the image represented a fond memory about personal branding and maybe an early example of trying to be an Idea Magnet.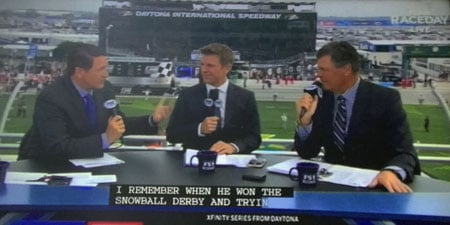 A Personal Branding Backstory
In 2003, I was running my company's NASCAR sponsorship. We'd finally started achieving on-track success in the previous two years. Our success translated into greater interest from our sales team in our NASCAR program. We used the new-found interest to more aggressively build integrated story lines between racing and our brand. We started heavily involving our drivers in company events and exploring new ways to gain attention for our drivers and the program as a way to build attention for our brand.
We had named Jamie McMurray was one of our new drivers for 2003. He'd enjoyed recent and early success. Jamie won a NASCAR Cup race in only his second start ever the previous year. Since he was new in attracting more media attention, we saw many opportunities to build stories around him. We had the sense, though, that Jamie didn't think much of creating stories or how we might help him grow his own recognition as we worked on our own.
As a result, our NASCAR representative and I made a previously-unplanned drive from Charlotte, NC to the Atlanta NASCAR track. Our objective? To meet with Jamie during the downtime at that week's race and talk to him about personal branding. This was unusual: I abandoned my plans to fly home from Charlotte for a personal event, and I hardly ever interacted directly with drivers, other than introducing them at customer events. I liked leaving all the driver interaction to our rep. This way there was no confusion about the message from the sponsor and who would deliver it to the driver.
Can Personal Branding Change a Life?
The meeting wasn't particularly long. I tried, during our time together, to help Jamie understand that we were interested in promoting him in ways that made sense for him AND for our brand. We chatted about the importance of HIM making decisions about what the Jamie McMurray brand would represent. I also mentioned a driver who'd won the Daytona 500. This driver was an average talent, at best, in his career. Nonetheless, this other driver was ALL OVER television commercials and race broadcasts. The reason why? Because of his outgoing personality and his willingness to be a little goofy with his personal brand. Jamie seemed open to personal branding. He made it clear, though, that he didn't want to be like the other driver, because HE wasn't goofy.
That driver?
You guessed it: Michael Waltrip.
After our conversation, Jamie continued the on-track success with our team, winning a couple of races. He also saw what we were doing to feature him as an integral part of our program and brand. While Jamie was with us only one year, I heard later from our NASCAR rep that Jamie referenced our personal branding conversation. He said it was the first time anyone talked to him about personal branding. Maybe it got him thinking about the possibilities as he went on to NASCAR success and to devote his attention to raising awareness of and funds for autism.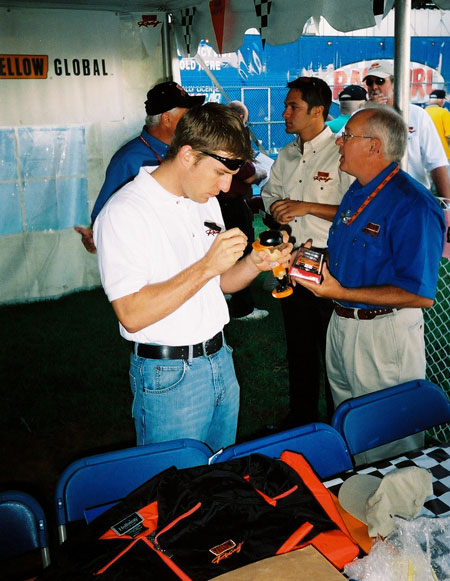 That's why Jamie McMurray and Michael Waltrip sitting next to each other as Jamie begins his broadcast career made me smile. None of us know when a brief conversation will, ideally, make a difference in someone's life. It was nice to get a sense that maybe the trip to Atlanta that Saturday helped to do that for Jamie. – Mike Brown