I was watching an HBO documentary on supermodels from the 1940s through the 1990s. The HBO documentary included supermodels sharing perspectives on their careers from earlier days, how they have changed since their prime modeling years, and ideas about what they have learned along the way.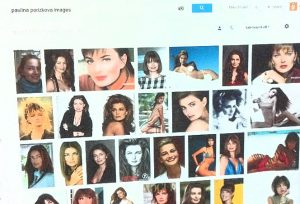 Among various intriguing interviews, Paulina Porizkova spoke about how she viewed herself at the height of her modeling career in her mid-twenties. At the time, she felt her thighs were fat, her knees were ugly, and in general, she did not have good legs. At 45, however, she said she looks back twenty years and thinks she looked great. Now though, she was bemoaning going to the gym 6 days a week only to have everything on her body sagging, with a too large forehead, and a stretchy face. She admitted that at 70 though, she will look back at herself at 45 and probably think she looked great in her mid-forties.
Now to me and just about anyone else, Paulina Porizkova looked fabulous in her twenties and still looks incredible today.
So how can an objectively beautiful woman such as Paulina Porizkova have such mistaken perspectives when it comes to judging how she looks?
Paulina Porizkova cannot assess how she really looks for the same reason it is so difficult for any of us to objectively judge our situations and provide the best ideas to ourselves about what we should do. Yet how many business people cling doggedly to the idea that they (or at least only the people already within their organizations) know everything there is to know about their situations and do not need outside help assessing things or helping devise new, more successful ideas?
6 Vital Insights Outsider Perspectives Offer
If you are one of those people who does not want outside help, here are six reasons you're missing vital insights by not seeking outsider perspectives:
Your internal voice will not give you objective insights on your situation.
Even if you know you don't know everything, you don't know what you don't know.
You have no diversity of mindset, knowledge, or experience relative to yourself.
You can't objectively assess what your strengths and weaknesses are by yourself.
You are either too bold or too reticent to provide ideas for yourself with the right degree of urgency and intensity.
You would have to be excellent at all of these: assessing your situation, determining the right steps to take, AND then taking the steps. Good luck.
It is so much easier to provide vital insights to other people on what to improve than it is to do the same for yourself. While the Brainzooming Group provides many outsider perspectives on strategy to clients across a variety of industries, I am always interested in hearing what insights others in our strategic circle have about opportunities for The Brainzooming Group. Trust me, an outsider can see, process, and speak with a clarity it is nearly impossible for an insider to muster.
If you are ready to give up on excluding outsider perspectives on your strategy, give us a call at 816-509-5320 or email us. The Brainzooming Group would love to provide the objective, outsider perspectives and ideas you are missing! - Mike Brown
The Brainzooming Group helps make smart organizations more successful by rapidly expanding their strategic options and creating innovative plans they can efficiently implement. Email us at info@brainzooming.com or call us at 816-509-5320 to learn how we can help you enhance your strategy and implementation efforts.