It's fantastic to have Woody Bendle back on the Brainzooming blog after too long away with an admonition to consider going opposite with your new product innovation strategy. Here's Woody!
New Product Innovation Strategy - Go Opposite by Woody Bendle
If you are a student or practitioner of new product innovation strategy, you are undoubtedly familiar with the "Go Opposite" strategy. If you are neither however, the Go Opposite new product innovation strategy is a specific example of an innovation technique sometimes called "Challenge Existing Conventions" that seeks innovation opportunities by going after sacred cows - or purposefully diverging from the herd.
I have recently come across a terrific example that really drives home the Go Opposite new product innovation strategy in running shoes. Consider this depiction of 40 years of running shoes:

From the 1970s through the late 2000s, the prevailing trend in running shoes was the evolution and advancement of materials and technologies. Shoes became more constructed with better out and midsoles that were designed for runners with different gates and foot-strike patterns.
In 2009, Christopher MacDougall's book Born to Run (affiliate link) unleashed the "Go Opposite" trend of minimalism and for the next five or so years, nearly every running shoe company introduced an array of minimalism innovations that were designed to emulate the feeling of being barefoot – without actually being barefoot.
Right about the same time as the release of Born to Run, a completely different type of running shoe company started up called Hoka One One. Rather than following the prevailing trend of minimalism, Hoka (affiliate link) innovated by Going Opposite and produced running shoes with maximal cushioning. And, for going opposite when it comes to its new product innovation strategy, they have been rewarded with a ton of awards and accolades.
Regardless of the market that you happen to compete in, it is always important to understand the prevailing trends driving your industry. But just remember, chasing the prevailing trend is usually a pretty crowded space and some terrific innovative opportunities regularly exist by exploring the opposite direction! - Woody Bendle
Affiliate Link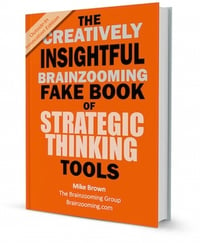 Are you making the best use of customer input and market insights to deliver innovation and growth? Creating successful, innovative new products and services has never been more dependent on tapping perspectives from outside your organization.
This new ebook features sixteen strategic thinking exercises to help you ideate, prioritize, and develop your best innovative growth ideas. Download this free, concise ebook to:
Identify your organization's innovation profile
Learn and rapidly deploy effective strategic thinking exercises to spur innovation
Incorporate crowd sourced perspectives into your innovation strategy in smart ways