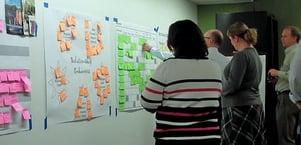 There was a time back in the corporate world when our company brought in a big-time business book author to explore strategic initiatives and new product development brainstorming with employee teams selected from throughout the organization.
The book author's partner in crime designed the methodology for teams to document and advance initiatives. The partner was a rocket scientist, with all the baggage that career background implied.
Everything about the process was as complicated as rocket science, and as with so many consultant-envisioned strategic planning and product development processes hoping to speed things up, everything other than the consultant's billable hours were compromised in the interests of speed.
The consultant's ill-defined process, however, had to be completed at every step.
How The Brainzooming Group Approaches New Product Development Differently
The Brainzooming Group approaches things fundamentally differently. I was explaining this to a prospective client while discussing early stage work for brainstorming ideas for new product development. The potential client is a leader in a business-to-business product market. It also uses its products to provide related services for other companies.
When The Brainzooming Group designs new product development brainstorming sessions we:
Start by identifying the desired new product development outcomes and designing the session around delivering those outcomes
Eliminate process steps that don't add any real value or new product ideas
Create interactive strategic thinking exercises that directly use the client's business objectives to generate new product ideas
Instead of using standard tools and exercises to identify off-the-mark new product development ideas, we design a new product development innovation session's foundation around fundamental business strategy and objectives.
Brainstorming Ideas Grounded in Business Strategy
The difference in using The Brainzooming Group approach is we deliver more targeted new product development ideas to address a client's business strategy and objectives. Clients enjoy the advantages of getting to "Fire" quickly, but without having to postpone the all-important "Aim" step until later.
Sound good?
Give me a call, and let's work together brainstorming ideas where you will see the successful difference for your organization and your new product development effort. – Mike Brown
The Brainzooming Group helps make smart organizations more successful by rapidly expanding their strategic options and creating innovative plans they can efficiently implement. Email us at info@brainzooming.com or call us at 816-509-5320 to learn how we can help you enhance your strategy and implementation efforts.