While traveling recently, I met with two online friends I'd never spoken with before. We'd chatted, messaged, and emailed, but had never spoken in person.
All I can say is I highly recommend turning online friends into IRL ones whenever possible.
A New Business Collaboration in Dallas
In Dallas, I met and spent two days with Mess Wright. We originally met on Twitter several years ago. I think Mess reached out online after reading some Brainzooming articles. I have been reading her multiple blog sites the last few years chronicling her career and life. I've said multiple times that I don't think I've ever read anyone online that's written about their personal successes and challenges in such a real, raw way.
Leading up to the Dallas trip, we were discussing her new role as a Communications Animator at The Grove, a social impact-focused co-working space located across the street from what was the Texas School Book Depository.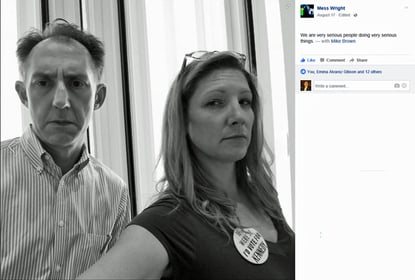 We spent time together seeing "Mess Wright's Dallas" and attending the Social Media Strategies Summit. Our conversations led to us pursuing a new business collaboration we're currently defining. I can't begin to tell you how excited I am about collaborating with Mess!
A Chicago Creative Nudge
While in Chicago following the Dallas trip, Diane Bleck of The Doodle Institute met Anthony Vannicola (our Brainzooming intern) and me. Diane has graciously created a couple of infographics for Brainzooming articles. Nevertheless, we didn't have any particular plans for our meetup.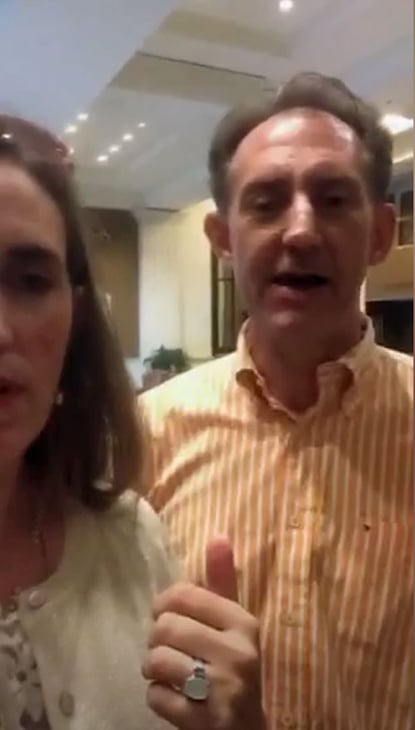 To put it succinctly, Diane came in and kicked my creative and content marketing ass in the nicest possible way. She dropped a strategy and business model on me that both makes so much sense AND runs wildly against the balance I've tried to create between The Brainzooming Group brand and how visible I am in the mix. We did a Periscope video (my first). She also kindly shared one of her Innovation Think Pad kits and issued a creative nudge to create a visual vocabulary for Brainzooming.
Being the dutiful student, I spent the flight home starting to craft a set of doodle icons for Taking the NO Out of InNOvation.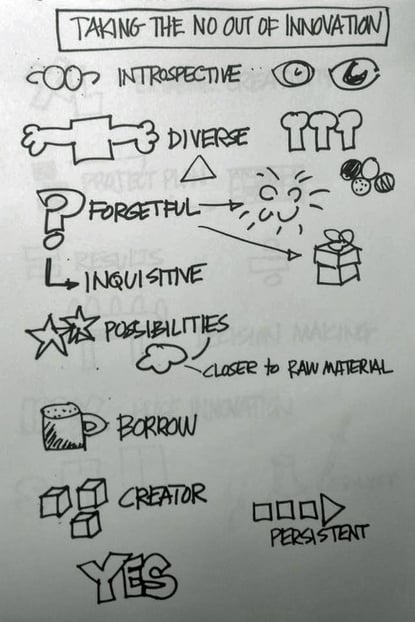 As an introvert, meeting online friends IRL has definitely extended my social boundaries in incredibly positive ways. It's made me more open to meeting new people. That includes sitting down and talking with complete strangers in airport restaurants on both trips. When I got back to a flooded-out Kansas City after the Chicago trip, I gave the guy across the aisle on the plane a ride home. Our introduction stemmed from a mutual friendship with Paula Holmquist. I met Paula at a copy shop years ago while preparing for our first big community collaboration event.
San Francisco and the SMS Summit
In late September 2016, I'll be co-presenting and hanging out with Whip-Smart Wordsmith, Emma Alvarez Gibson, at the Social Media Strategies Summit and Marketing Conference in San Francisco. I met Emma in 2009 via an introduction from Jan Harness. Emma's helped develop the initial Brainzooming brand messaging. We collaborate online frequently, and Emma co-facilitated an in-person workshop we did for CompTIA in San Diego several years ago. Additionally, she's been editing our eBooks this year.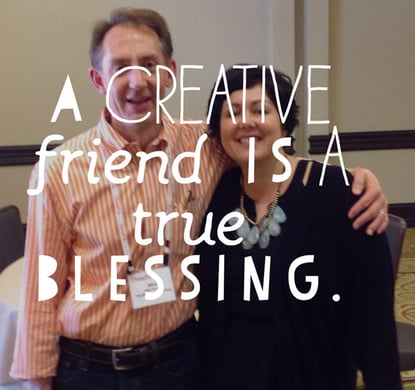 And btw, if you're focused on marketing in general or social media and content marketing specifically, you should join us at this great event!
Want to Meet IRL in Your Town?
Introverts can grow and gain comfort with going from online to IRL friendships. Every time I've done this, it has led to learning more about online friends and about myself. In multiple cases, these meetings have fostered further collaboration.
So if I'm coming to your city (including Evansville, Indiana, San Francisco, Denver, St. Louis. Las Vegas, Indianapolis, and other locations before the year is done), are you interested in meeting IRL? Let me know! – Mike Brown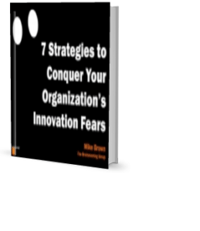 Whether spoken or unspoken, organizations can send strong messages saying, "If it isn't broken, don't screw around with it" in a variety of ways. Such messages make it clear that good things do not await those pushing for innovation involving any significant level of risk.
This free Brainzooming innovation eBook identifies seven typical business innovation fears. For each fear, we highlight strategy options to mitigate the fears and push forward with innovative strategies. We tackle:
Whether facts or emotional appeals are ideal to challenge fear of innovation-driven change

When it is smart to call attention to even bigger fears to motivate progress

Situations where your best strategy is taking business innovation underground