I delivered a Brainzooming workshop on "Budget-Extending Social Content Strategy" at the Social Media Strategies Summit this week. We had more than forty attendees, which is a lot for a three-hour, interactive workshop. We adjusted our approach to maximize the interaction among the participants. During the time together, we worked through various Brainzooming tools to develop and implement social content strategy that is smart online and drives results for a brand.
Little did I suspect that covering career strategy would become an offshoot topic during the workshop.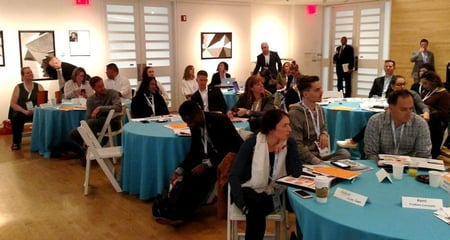 Several attendees during and after the workshop recounted how their senior executives (typically from an earlier generation), don't want to talk about their brands online. The reasons range include a corporate stance to not talk about what they do, relationships with suppliers and customers, fears of violating regulations, and a general skepticism that anybody that follows a brand's online content EVER buys anything.
Yes, these concerns are ALL still out there.
Taking with several attendees about strategies to change these opinions, and the roadblocks they continue to expect, I finally suggested, "Maybe it's time to find another job?"
That comment led to at least one powerful set of conversations with a young woman who realized that her future likely doesn't include the brand where she is now. We talked about the importance of developing the next thing while the current thing is still paying the bills. On the conference's second day, we talked about her passion for learning from and helping to mentor and develop strong woman in business. It all started to come together that this passion is her platform for changing the world. She's committed to start blogging about it. And it's not hard to see her writing a book and speaking about this, beyond all the individuals she'll help in person.
13 Career Strategy Articles to Help Develop Your Next Job
When I pointed her to some background articles on the Brainzooming blog, I realized they were not in one place and easily findable.
Maybe you are in a comparable career position, where your skills are stagnating because your current brand's executives can't be convinced there are new and better ways to do things. If so, you may want to start thinking about whether it's time to find another job (and act on it if it is).
Here are thirteen career strategy articles to help your exploration:
Keeping Things Going in Your Job Right Now
9 Ways to Understand the Political Fray and Stay the Hell Out of It
3 Strategies for Navigating a Political Environment
Career Challenges – 6 Ideas when Losing the Love for What You Do
Career Success – 7 Ideas If You Don't Care About What You Do Anymore
Strategic Thinking Exercise – Simply Making Big Decisions
Corporate Sociopaths and Horrible Bosses – 7 Ways to Survive Them
Doing the Work to Start Finding another Job
The 4-Step Career Advice Nearly Everyone Ignores
Career Change – 4 Career Tips for a Mid-Career Professional
Is Your Personal Brand Portable to Another Job?
The Strategy for Exploiting Your Mindless Job
Career Strategy: Dear Job, I Can't Quit You
Career Success Strategies – 6 Steps When You're Laid Off by Anonymous
Career Strategy Challenge – 5 Ideas When You Lack Résumé Metrics