Please Vote Today for Brainzooming as a Top 2016 Innovation Blog!
I don't make a huge number of "asks" from you. The annual Top Innovation blogging competition is one area where I do ask for help!
Brainzooming was nominated again this year (Thanks Alex Greenwood!) as a Top 40 Innovation Blog on Innovation Excellence. Your votes count, so please vote today! The cut-off for voting is January 7, 2017.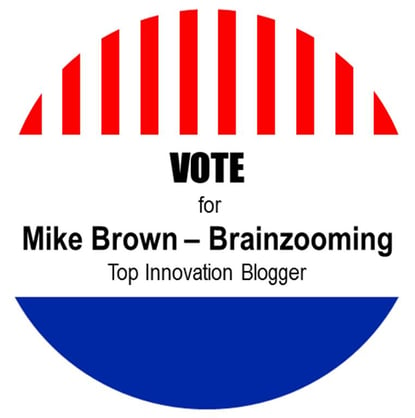 Voting via Twitter -
Click the "Tweet This" bird to the right (if you're logged into Twitter) or paste and share this tweet: @ixchat I vote for Mike Brown @Brainzooming for Top #Innovation Blogger
Voting via Facebook -
Vote Today! January 7, 2017 Voting Deadline – Thanks for your support!
To see the entire list of nominated innovation blogs / bloggers, you can visit the Innovation Excellence website.