Didn't think the Panera "What my passion?" nametags would warrant another blog post, especially a full year later, but this was too good to be true.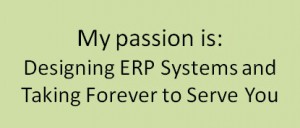 At Panera for lunch recently with Barrett Sydnor, the passion of the person taking my order was "Designing ERP Systems." Cool - finally an intriguing answer to the question.
I figured the guy must be brainy so my relatively complicated order (dressing on the side, BBQ sauce on the side, no bean salsa) would be in good hands. After placing the order, there was a prolonged pause as he tried picking out the modified options on the cash register. When he was finally done, he immediately closed the ticket and told me what I owed. I mentioned I also needed a couple of items to go - and a drink - so he opened the ticket back up and added 2 scones and my drink.
After all that, he finally asked what side item I wanted with my salad, although it's usually the first question right after you order. With that detail out of the way, he went to get the scones and took my money. By the time the order was finally ready, it was many minutes after Barrett, who had ordered at the same time, was seated and already eating.
My first reaction was there was a disconnect between the guy's personal brand (which said "smart" to me because of his ERP reference) and his challenges in performing on what should be a straight-forward user experience. After reconsidering, it struck me though that my user experience involved:
Basic questions which were ignored
Confusion and delays associated with my customization request
A timing mismatch relative to the typical flow of activity
An abnormally long time to complete the process
I realized my experience was actually a lot like nearly all ERP design and implementation experiences. So I stand corrected: this guy did deliver consistently on his personal brand promise! - Mike Brown